Find Inner Peace - Bring Balance To Your Life - Sleep Like A Baby
Bring Balance To Your Life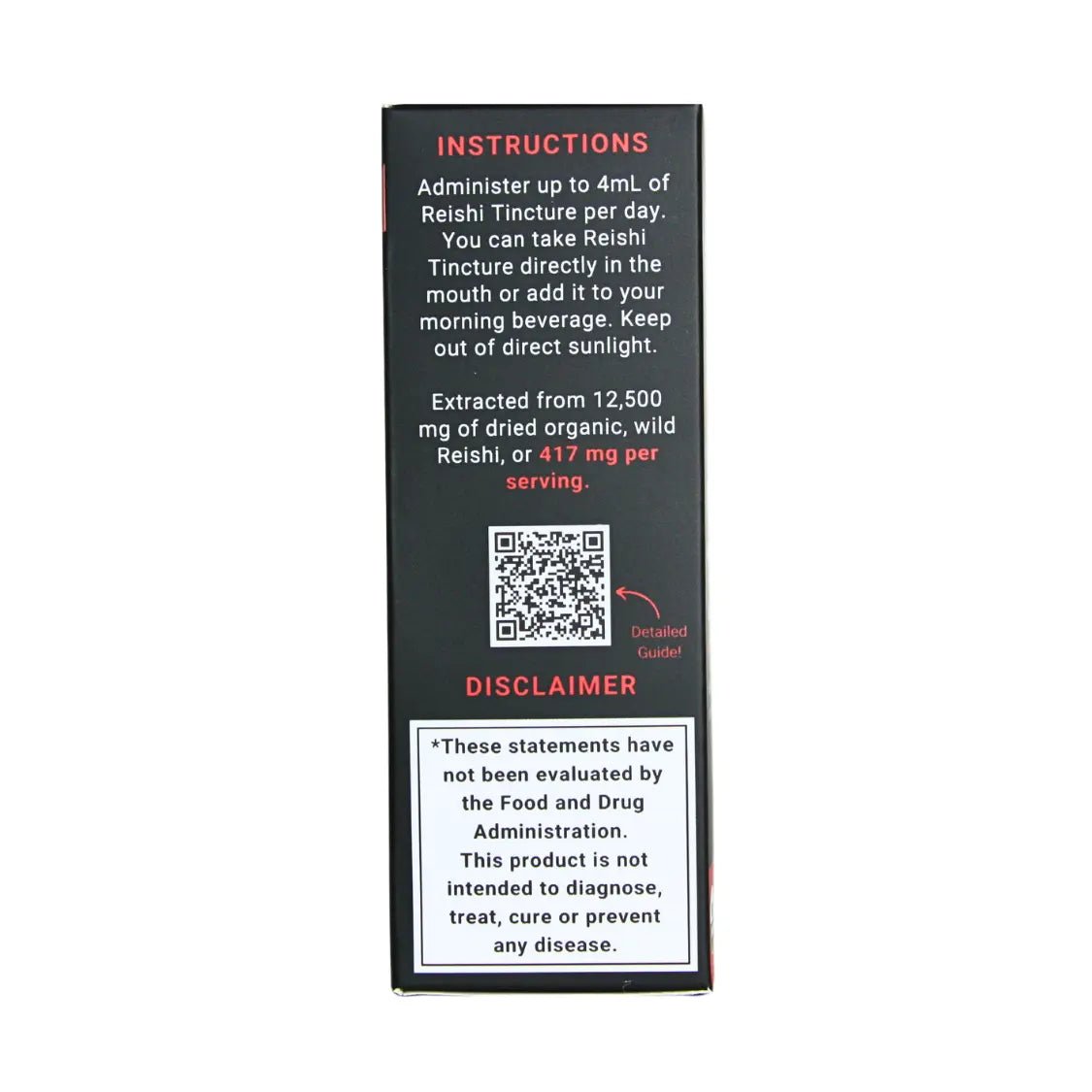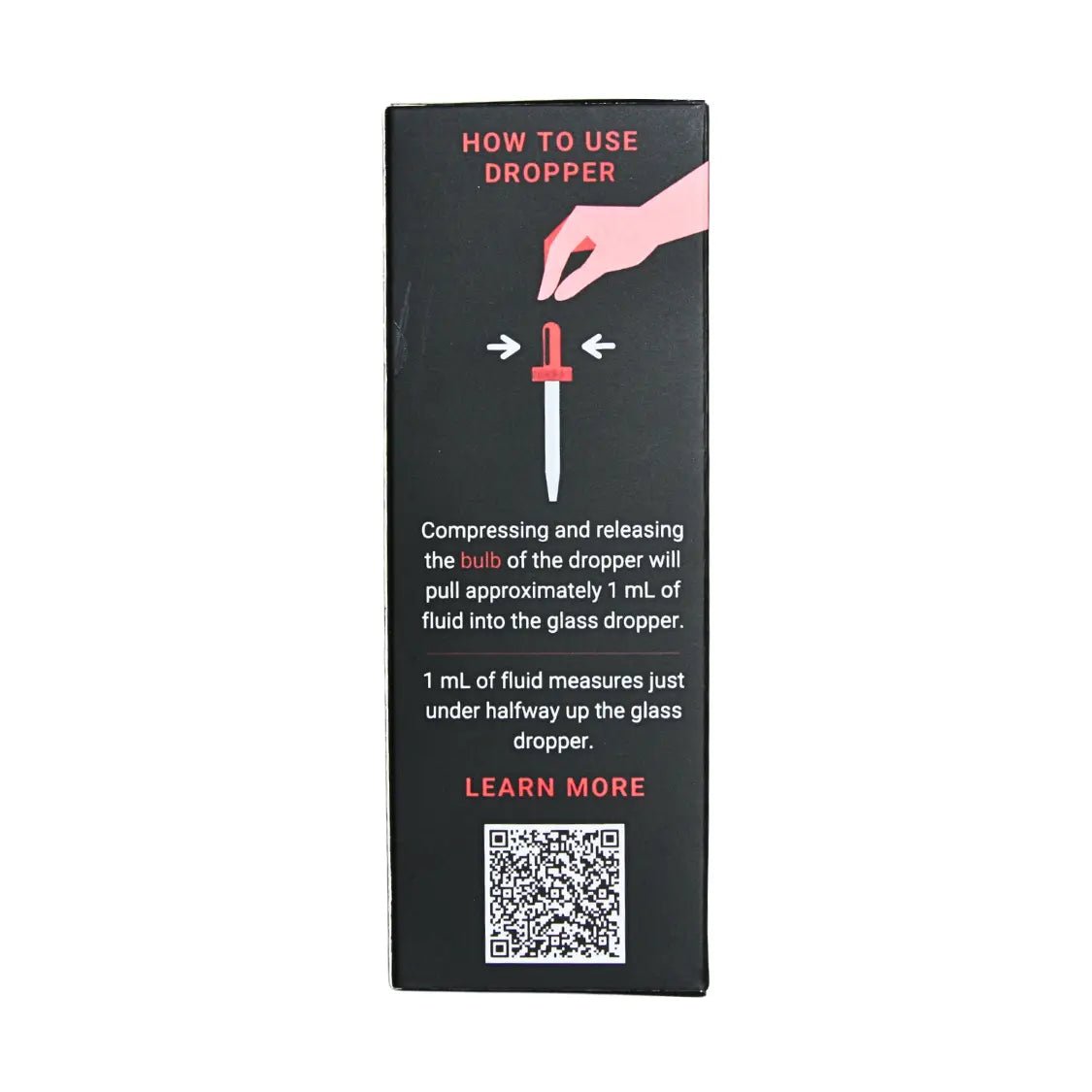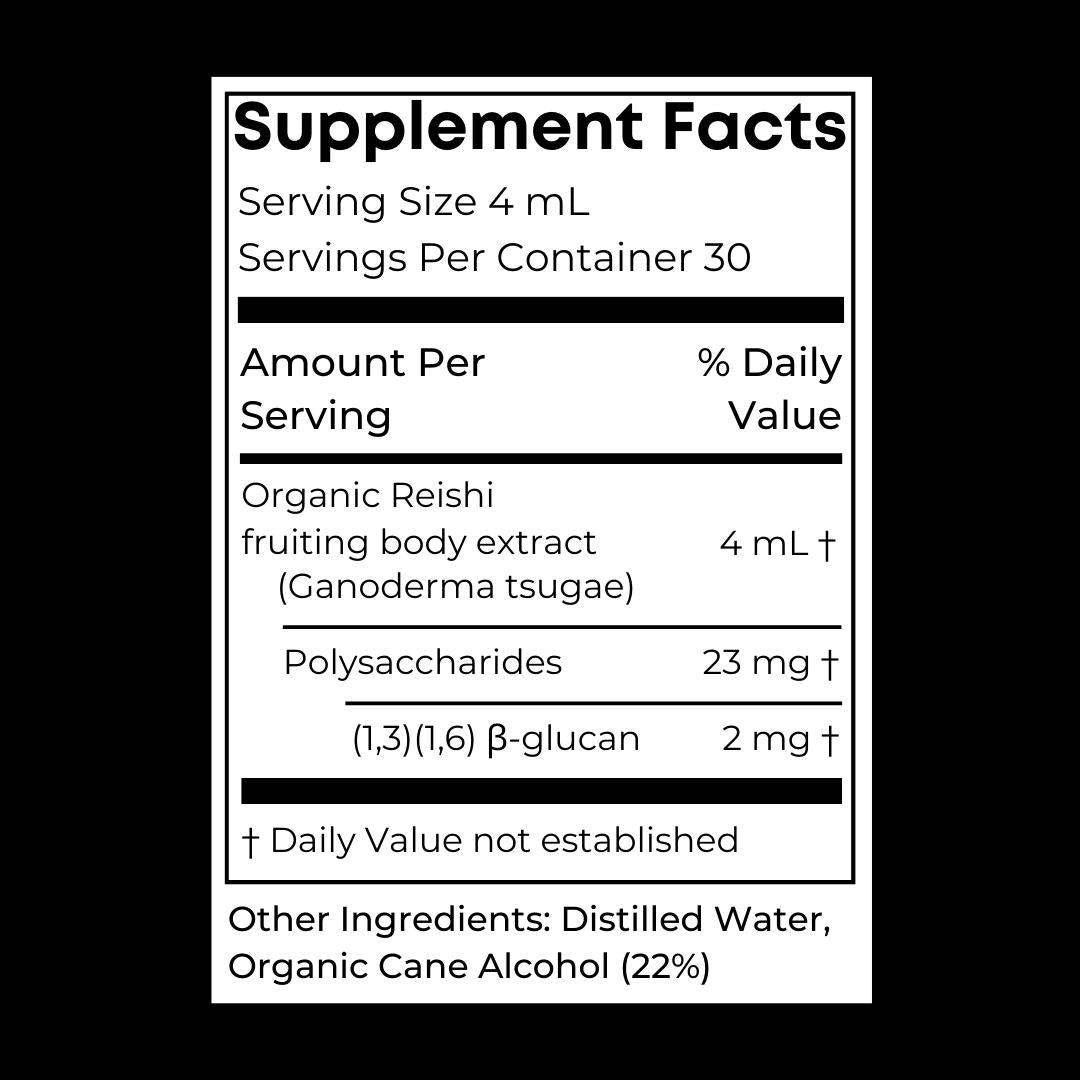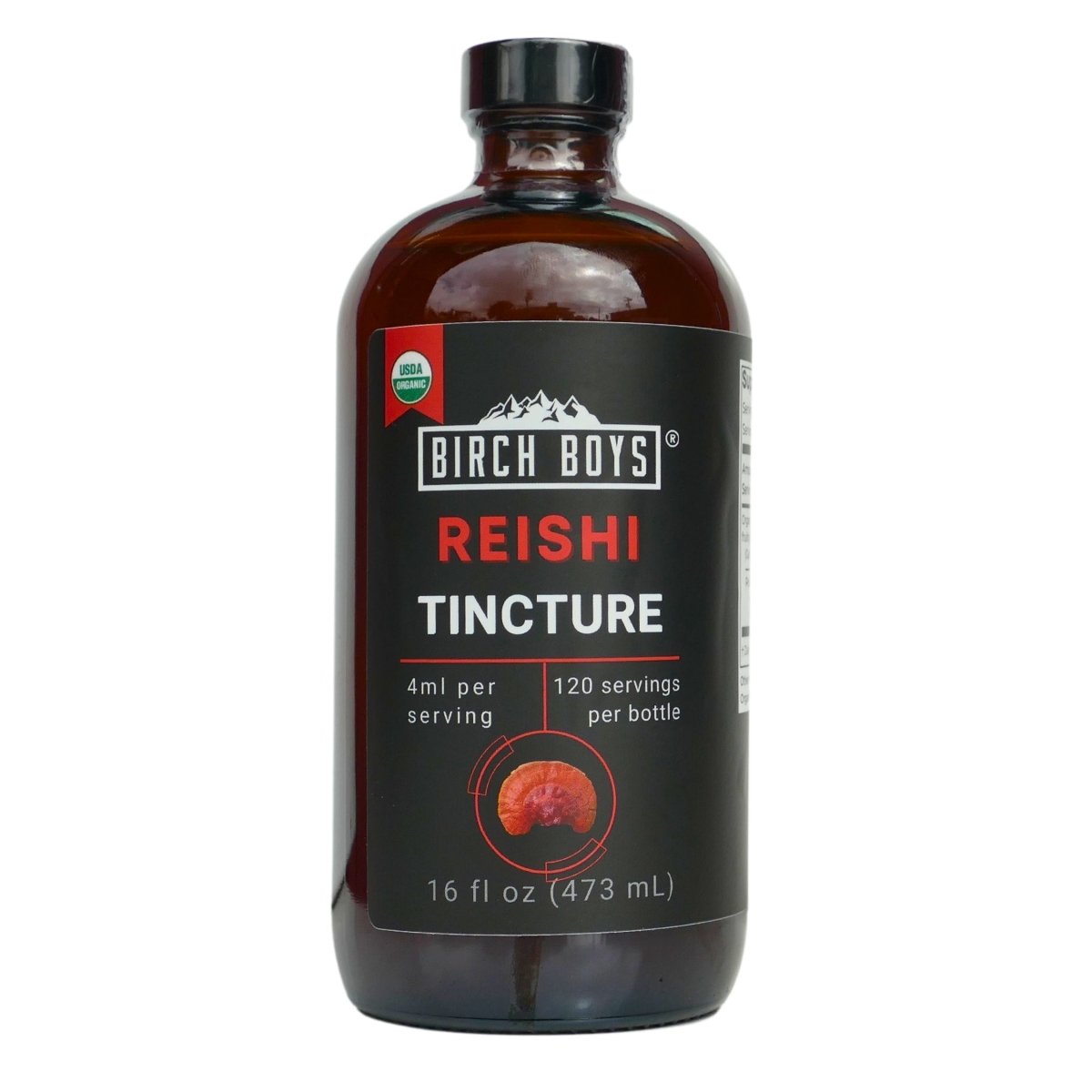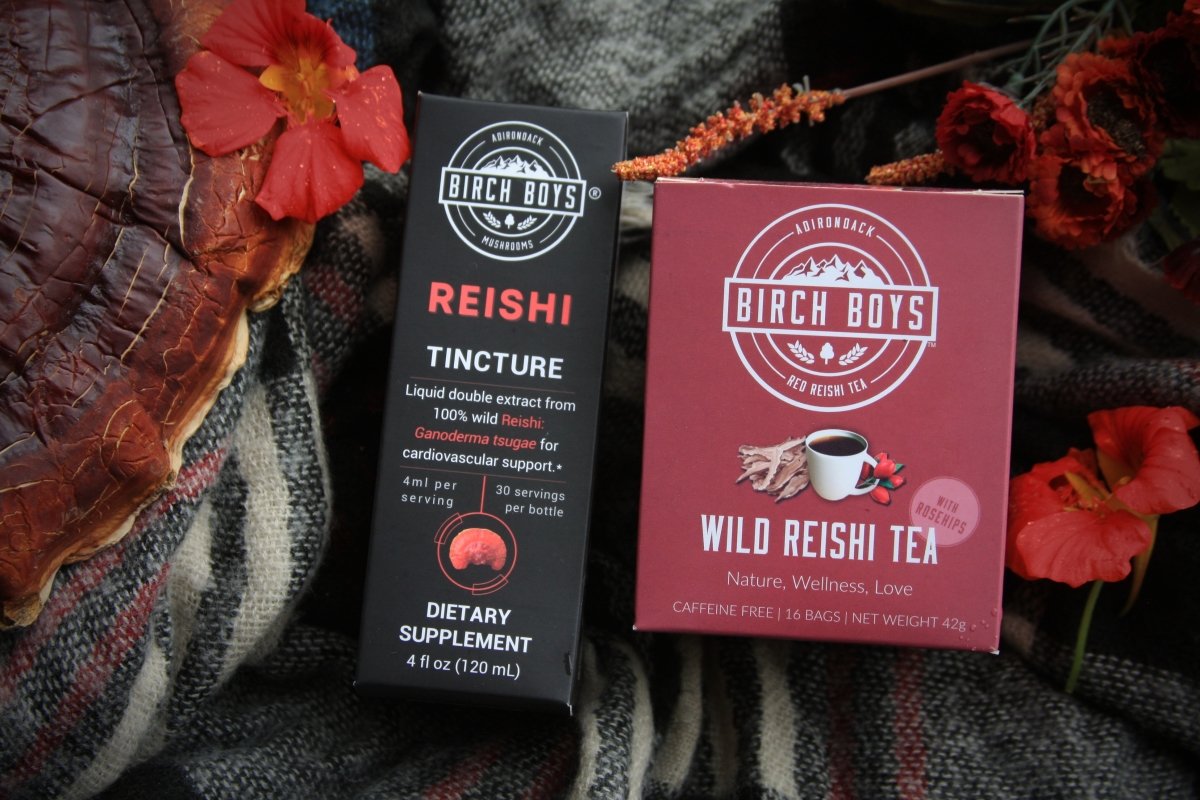 BIRCH BOYS REISHI TINCTURE
Made with ingredients you can trust
BIRCH BOYS REISHI TINCTURE
BIRCH BOYS REISHI TINCTURE
Made with ingredients you can trust
Wild, Organic Reishi Fruiting Body
Birch Boys reishi fruiting bodies are sustainably wild-harvested from over 200,000 acres of leased Adirondack forest land.
Our wild reishi is certified USDA organic.
Third-party testing has confirmed that Birch Boys' reishi is compliant with California's Prop 69.
100% US origin (and 100% Adirondack, in fact!)
We source our Organic Cane Alcohol from a top-quality US distillery.
The addition of an alcohol extraction of reishi to our formula makes reishi's more complex healing compounds bioavailable. These compounds include triterpenes, sterols, lignin and more.
Pure, distilled water is imperitive to the making of our reishi Tincture. Our concentrated hot water extraction makes the water-soluble compounds found in reishi bioavailble. These include antioxidants, polysaccharides (including beta glucan), polyphenols and more bioavailable.
Frequently Asked Questions
How long does it take reishi mushroom to work?
Reishi gets to work immediately upon entering your body, but it may take some time before you notice the effects. Some people notice as early as the first week. Others who may be more resistant to supplements may take up to 2 months to notice the effects of Reishi. For more information on the noticeable effects of Reishi Tincture, check out our Mushroom Tincture Guide.
Should Reishi Tincture be refrigerated?
No, Reishi Tincture, and mushroom tinctures in general, do not need to be refrigerated, but they should be stored away from direct sunlight.
What's the difference between reishi and chaga?
Reishi and Chaga are different fungi, and while many of their benefits overlap, they have different primary uses. Reishi is mainly used for calm, sleep support and cardiovascular support. Wheras chaga is mainly used for immune support and energy. Learn more about Chaga's benefits here.
What type of mushrooms are good for mood and anxiety?
As supplements, Birch Boys products are not intended to treat, cure, prevent or diagnose any disease. Reishi and Lion's Mane are both mushrooms that support a positive mood. As adaptogens, they can also help support a healthy response to emotional, physical and environmental stressors. Learn more about Lion's Mane.
How long does it take for Reishi Tincture to kick in?
Can you mix mushroom tinctures?
Should I take Reishi Tincture every day?
For maximum efficacy, we recommend taking Reishi Tincture daily.
Frequently Bought Together
This hard-hitting trio is great for supporting your immunity, state of mind, and wellness
Reishi & Lion's Mane: This duo is great for supporting a peaceful state of mind! Reishi helps to manage stress and supports emotional health. Lion's Mane supports healthy brain function and has also been shown to support emotional health.
Reishi & Maitake: Reishi has many benefits, but many use reishi as well as maitake to support their circulatory system. Maitake and Reishi are a great combo to support your wellbeing!
Tincture plunger bulbs
Oh, I love the quality of your products and the effectiveness that they provide. What I have noticed in the last couple shipments is the plunger bulbs are not very effective in pulling accurate doses. My understanding is that they are recycled bulbs. And they are much smaller in size. Can you please reconsider and go back to the originals? I have asked some of my referral customers, and they would like to go back to the original bulbs as well. Many thanks!
I use several Birch Boys products. Love their products and service!
Love Birch Boys products! Lion's Mane has changed my experience of menopause. My cognitive recall is "normal" again (rather than spending 10 seconds trying to remember a word, then giving up- 3 seconds and the word pops up!) Also love Rishi at night- I sleep as well as I did as a teenager- but my dreams are more interesting now! ;)
Great product! Referred to many friends.
The reishi tincture is very nice. I feel it relaxes me before going to bed and promotes quieter periods of sleep through the night.
Great products and wonderful customer service.
Wild-Harvested and Sustainably Sourced
Our Chaga, Reishi and Turkey Tail are all sustainably wild-harvested in the Adirondacks of New York State. We source our Lion's Mane and Maitake from organic growers in the USA.
Made in USA
Every step of the way, from harvest to drying, slicing & chopping to grinding, to packaging and order fulfillment, our small (but mighty) team does it all.