Unleash Your Brain's Potential - Clear Your Mind - Enhance Your Mental Agility
Unleash Your Brain's Potential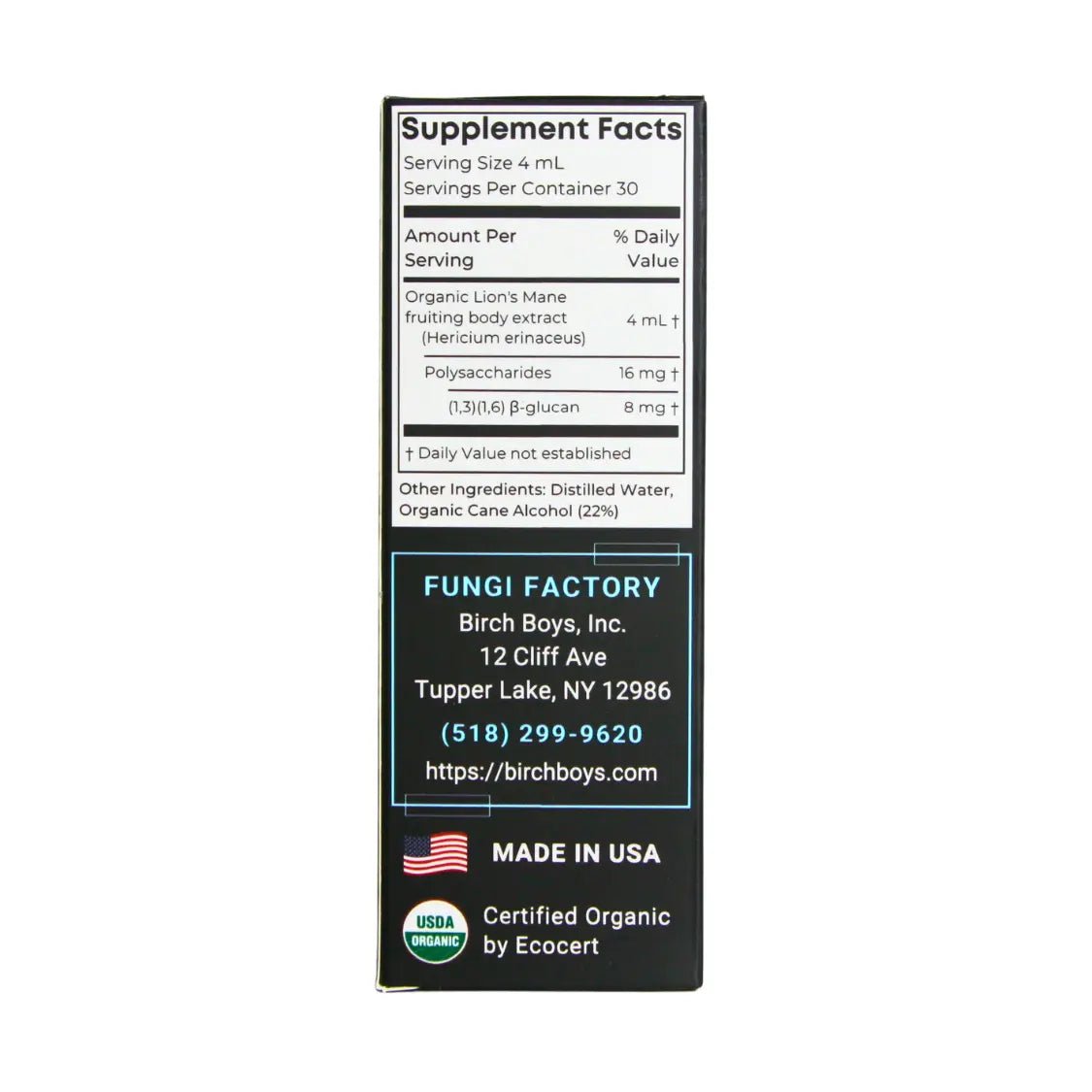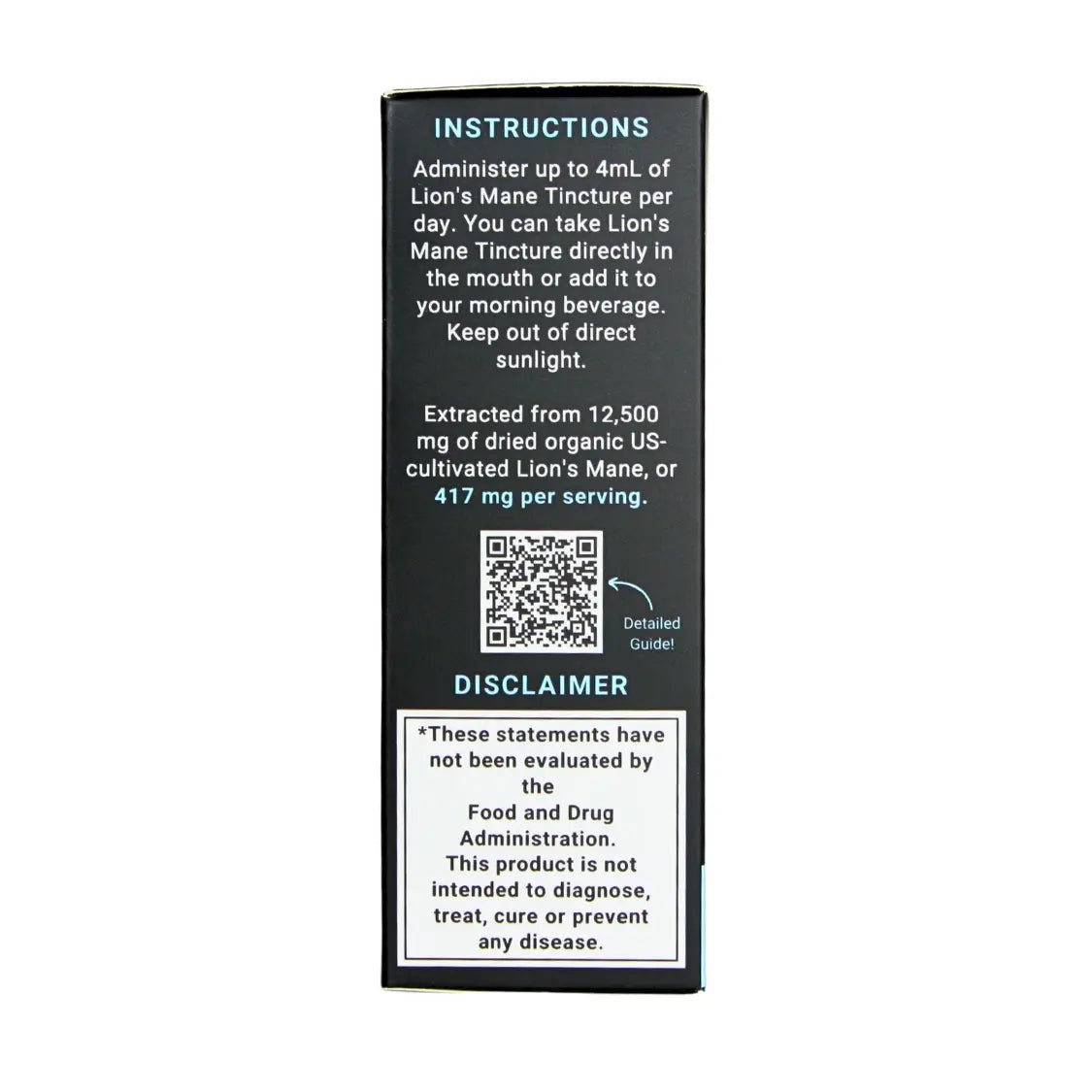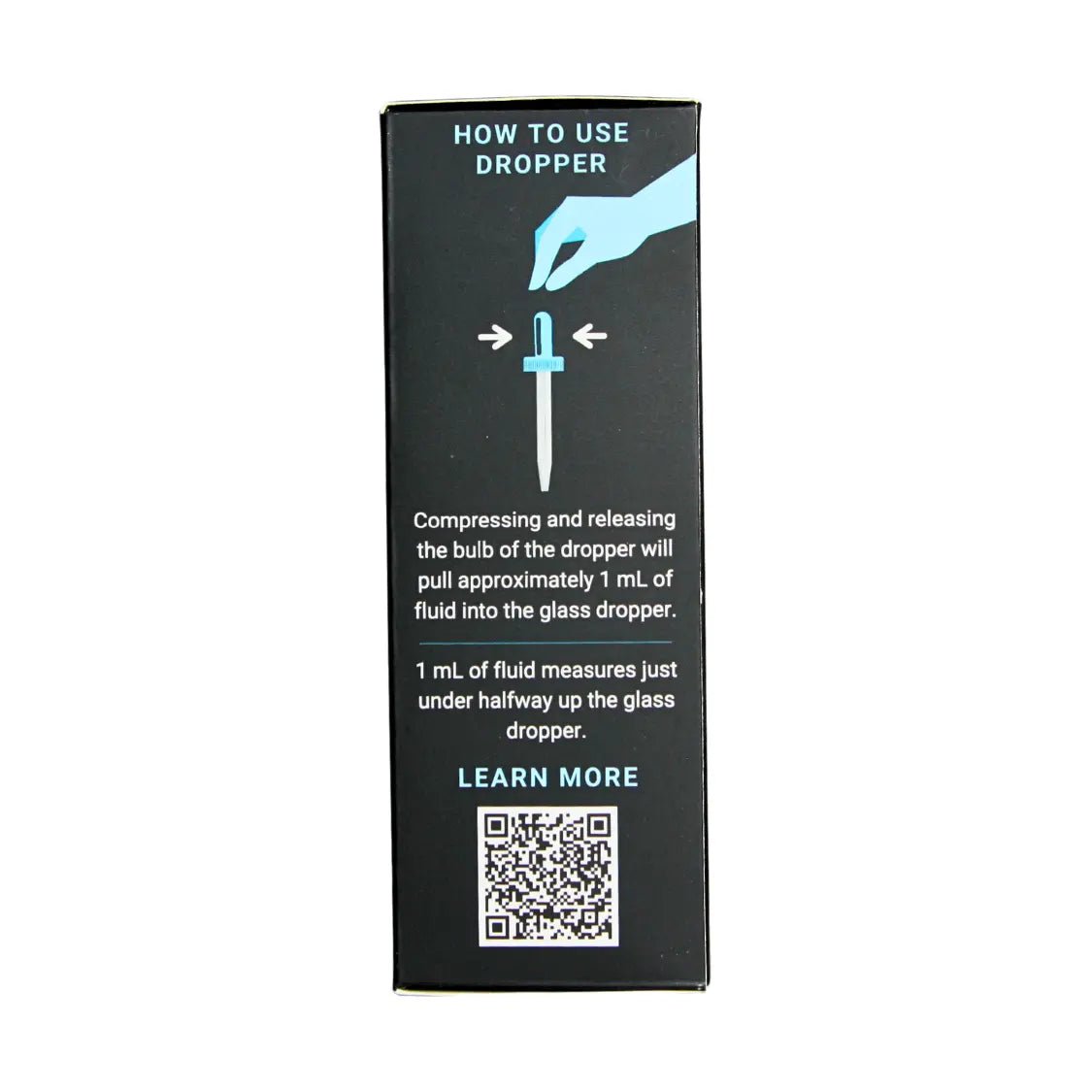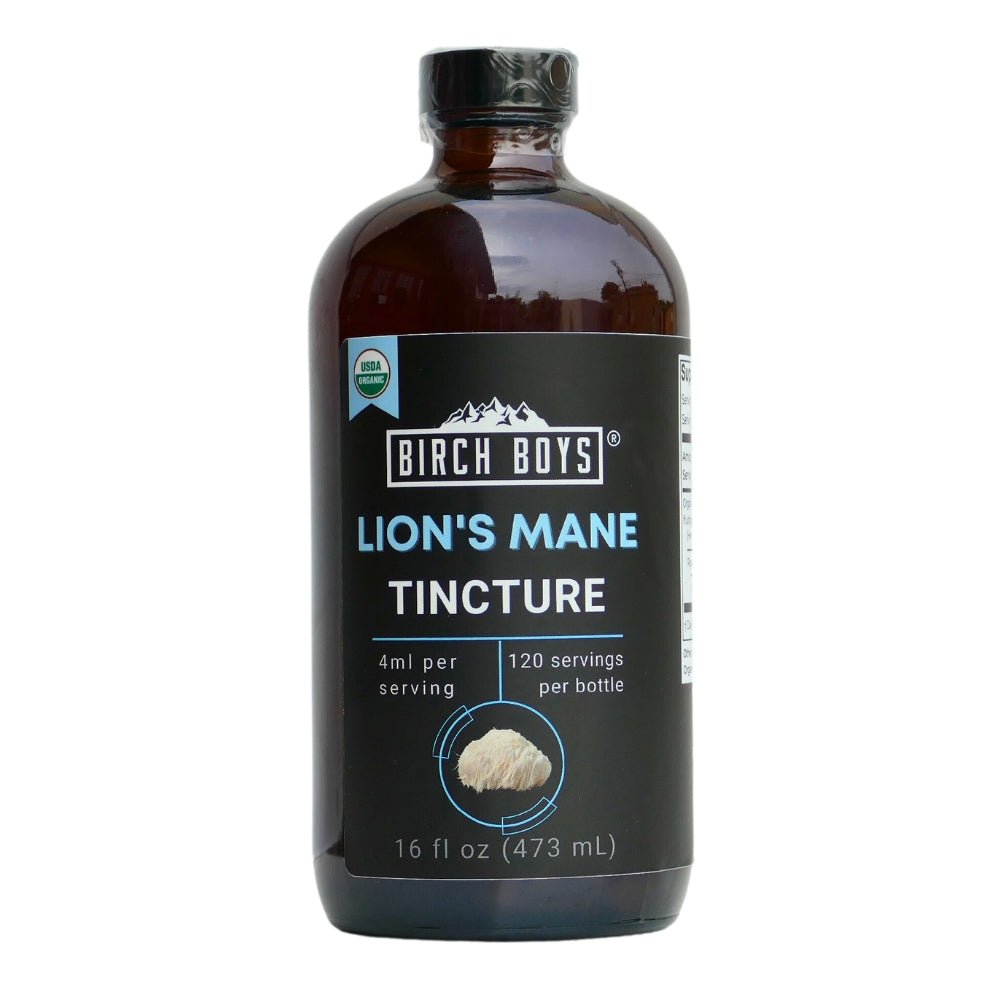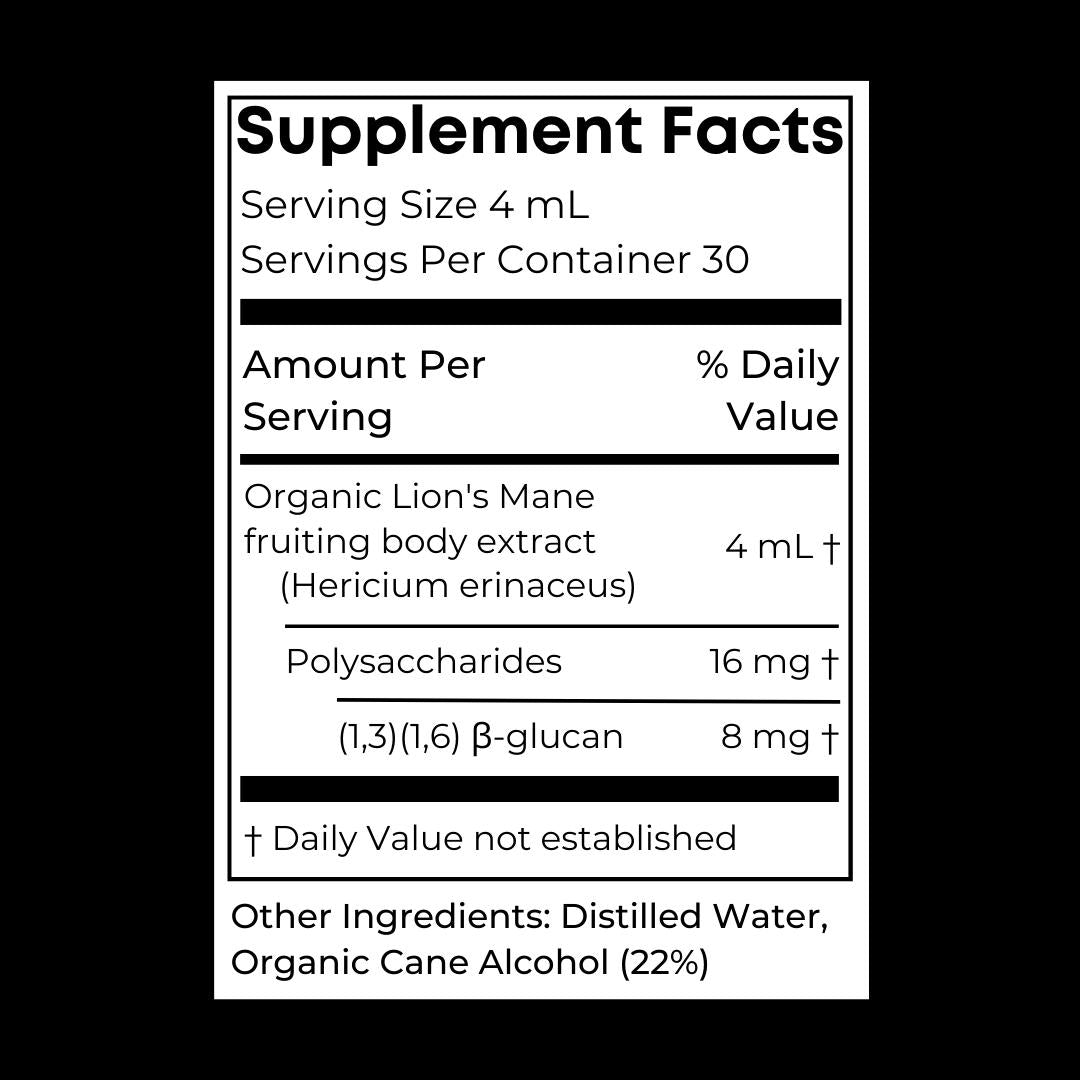 BIRCH BOYS LION'S MANE TINCTURE
BIRCH BOYS LION'S MANE TINCTURE
Made with ingredients you can trust
Made with ingredients you can trust
Organic U.S. Lion's Mane Fruiting Body
We source our lion's mane fruiting bodies from a top-quality organic certified grower in the U.S. When you buy from Birch Boys, you can rest assured that our products are all US-origin, never sourced from China, Russia or overseas.
Our lion's mane is certified USDA organic.
We source our Organic Cane Alcohol from a top-quality US distillery.
The addition of an alcohol extraction of lion's mane to our formula makes lion's mane's complex healing compounds bioavailable. These compounds include triterpenes, sterols, lignin and more.
Pure, distilled water is imperitive to the making of our Lion's Mane Tincture. Our concentrated hot water extraction makes the water-soluble compounds found in lion's mane bioavailable. These include antioxidants, polysaccharides (including beta glucan), polyphenols and more.
Frequently Asked Questions
Lion's mane tincture vs. capsules?
Tinctures are the most effective and potent way to consume Lion's Mane, and all other healing fungi. Tinctures are higher quality, more potent and more bioavailable than all capsules on the market. Double extract tinctures are full spectrum extracts, containing all of the healing compounds found in mushroom fruiting bodies. Capsules are completely different. The material inside of capsules can vary. It can be ground mushrooms, an extract powder, mycelium on grain (30% mycelium, 70% grain), or a combination of various materials. Double extract tinctures are always more effective than capsules. The wide variability of capsule ingredients makes it hard for consumers to know what is in the capsule and how effective it is. With tinctures, you can be sure you're getting the most out of your mushrooms, every time!
Is there anything I should know before starting a lion's mane regime?
Lion's Mane is usually taken in the morning. General best practices for starting any new supplement are starting low and going slow as well as starting only one new supplement at a time. Lion's Mane has been shown to be very well tolerated. To learn what to expect when starting Lion's Mane, check out this Mushroom Tincture Start Guide.
How long does it take for lion's mane to start working?
As soon as you take your first serving of Lion's Mane Tincture, it is getting to work in your body! However, it may take some time before you notice the effects of Lion's Mane. Some people notice as early as the first week. Others, who may be more resistant to supplements, may take up to 2 months to notice the effects of Lion's Mane. For more information on the noticeable effects of Lion's Mane, check out our Mushroom Tincture Guide.
What is the difference between lion's mane and chaga?
Lion's Mane and chaga have quite a few differences. Lion's Mane's primary use is to support brain health, while chaga's primary use is for immune support and energy. Learn more about chaga.
What is the best mushroom blend for anxiety?
Birch Boys products are not intended to treat, cure, prevent or diagnose any disease. However, Both Lion's Mane and Reishi are mushrooms that can support a positive mood.
Should lion's mane tincture be refrigerated?
No, Lion's Mane Tincture and mushroom tinctures in general do not need to be refrigerated, but they should be stored away from direct sunlight.
Can you mix lion's mane with other mushroom tinctures?
Yes, you can mix Birch Boys Mushrooms Tinctures. Lion's Mane Tincture works particularly well with Chaga Tincture. We recommend starting mushroom tinctures one by one so that you can get a feel for the effects of each tincture that you add to your routine. Learn more about starting a tincture regimen.
Should I take lion's mane tincture everyday?
Yes, we recommend taking Lion's Mane Tincture everyday for maximum efficacy. Studies have shown that Lion's Mane must be taken daily for continued benefit.
Frequently Bought Together
This hard-hitting trio is great for supporting your wellness, gut and mind!
Lion's Mane & Chaga: This combo is great as a coffee alternative! Lion's Mane provides mental energy and clarity, while Chaga provides physical and motivational energy. If you're looking to reduce, eliminate or augment your caffeine intake, this combo is your new superstar!
Lion's Mane & Turkey Tail: We all know how much the gut can impact the brain! You can take care of them both with Lion's Mane and Turkey Tail. Use this duo to promote a healthy brain/gut balance.
I love Birch Boys products. Great product.
Great for Menopause Brain Fog!
I started taking Lion's Mane about a year ago, and it has changed my short-term memory like magic! No more walking into the next room, forgetting why I'm there...no more fumbling awkwardly for a simple word that is on the tip of my tongue...gaining my memory has increased my confidence and I'm only taking 2ml/day! A wonderful find for self care!
Thus far...dsiappointed.
So far I have not noted any improvement. in my mental clarity.
I do not have dementia, but sometimes struggle to remember names.
I also sent an email telling you that your droppers are not legibly marked and it was not clear that you need 4 droppers full to get a dose. Both droppers I received ( I also got the Reishi) do not work well to pull an entire dropper full (very frustrating!). I also have not noticed any difference taking the reishi. I am giving both tinctures a full month in hopes I notice some sort of improvement, so I have not given up hope. Also my two sons said they have not noticed any difference.
But PLEASE, IMPROVE YOUR DROPPERS and make sure they are CLEARLY marked.
It has been helping to keep me more alert than before
LMT
I honestly notice a difference.
Wild-Harvested and Sustainably Sourced
Our Chaga, Reishi and Turkey Tail are all sustainably wild-harvested in the Adirondacks of New York State. We source our Lion's Mane and Maitake from organic growers in the USA.
Made in USA
Every step of the way, from harvest to drying, slicing & chopping to grinding, to packaging and order fulfillment, our small (but mighty) team does it all.