Five Powerful Mushrooms - One Tincture Bottle - Total Wellness Support
Nourish Your Immune System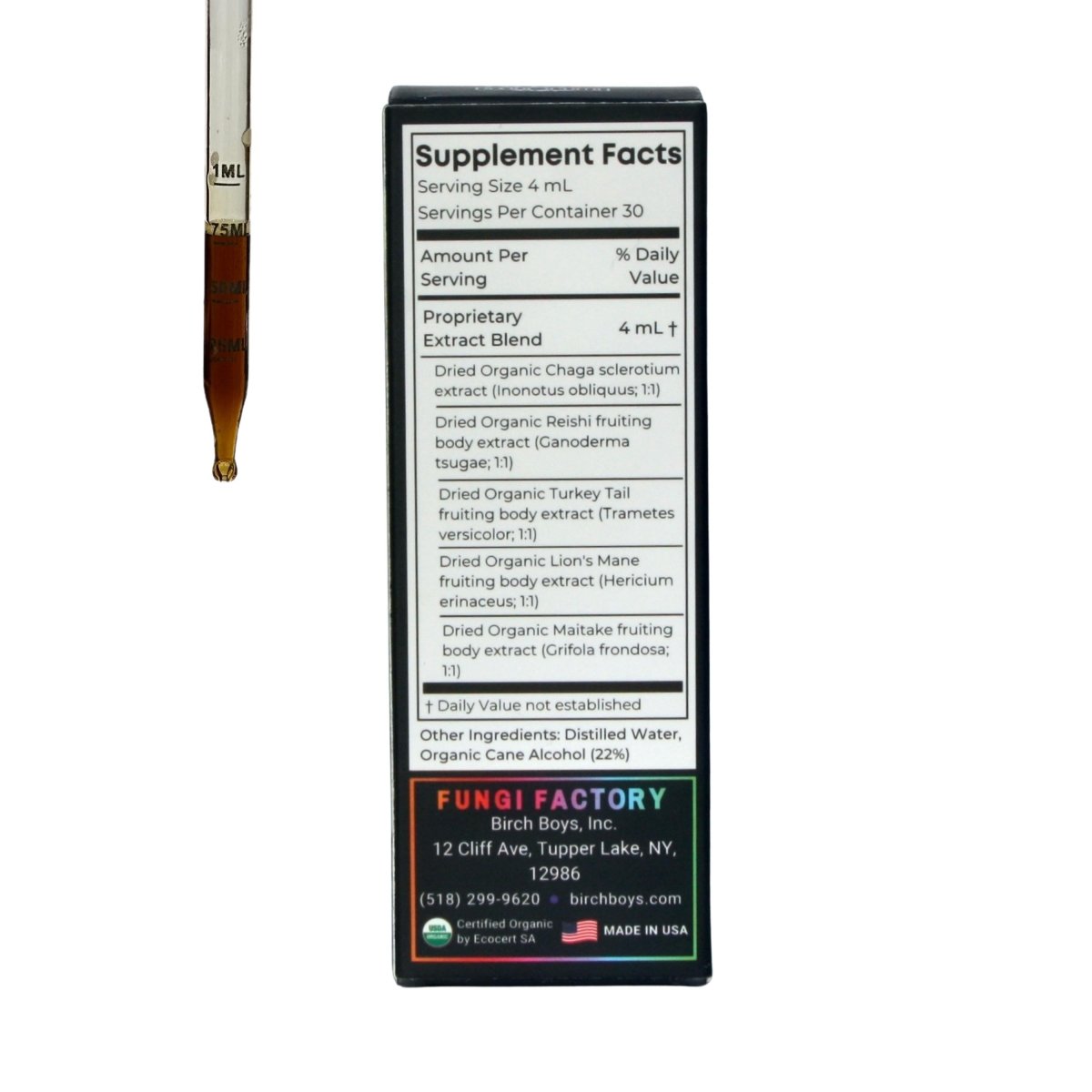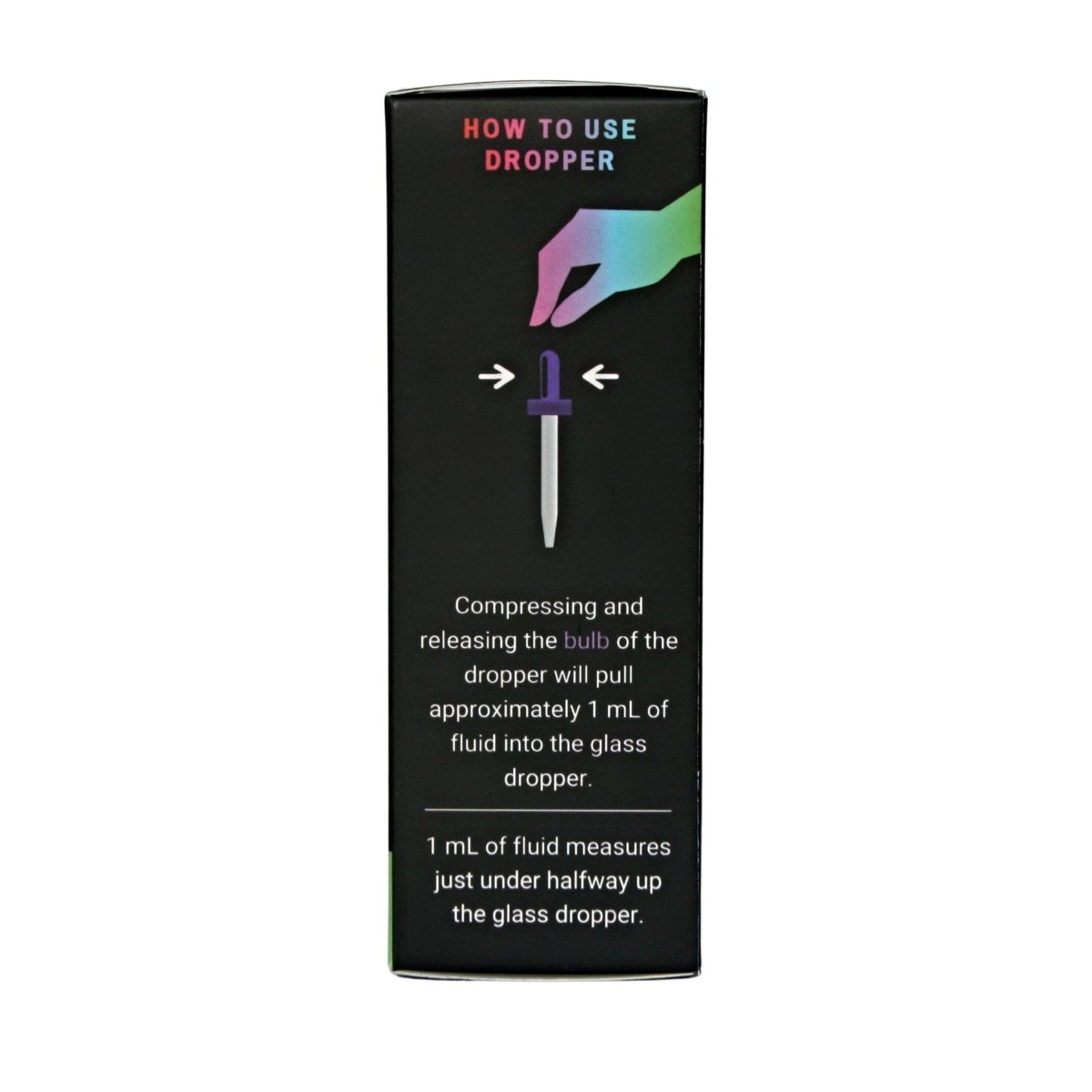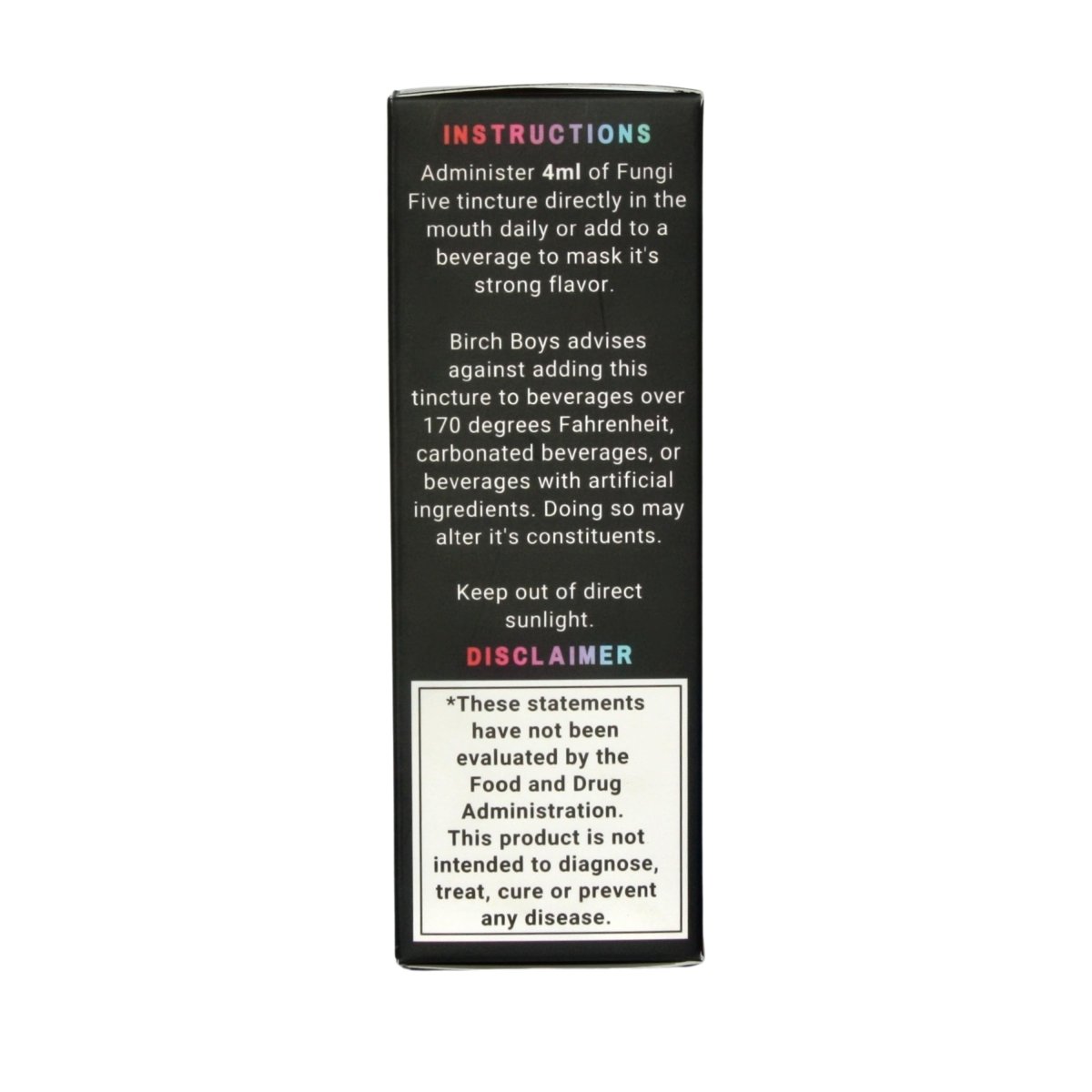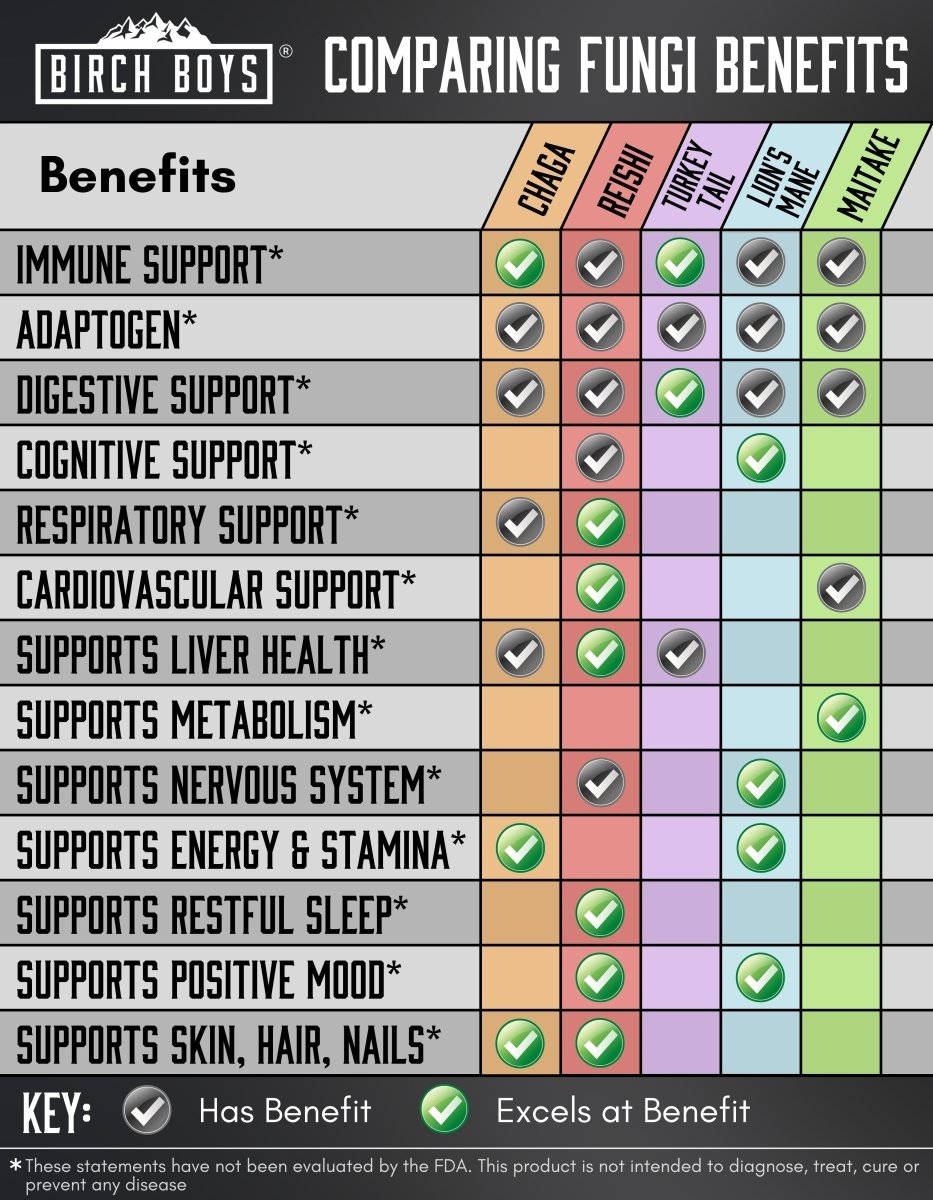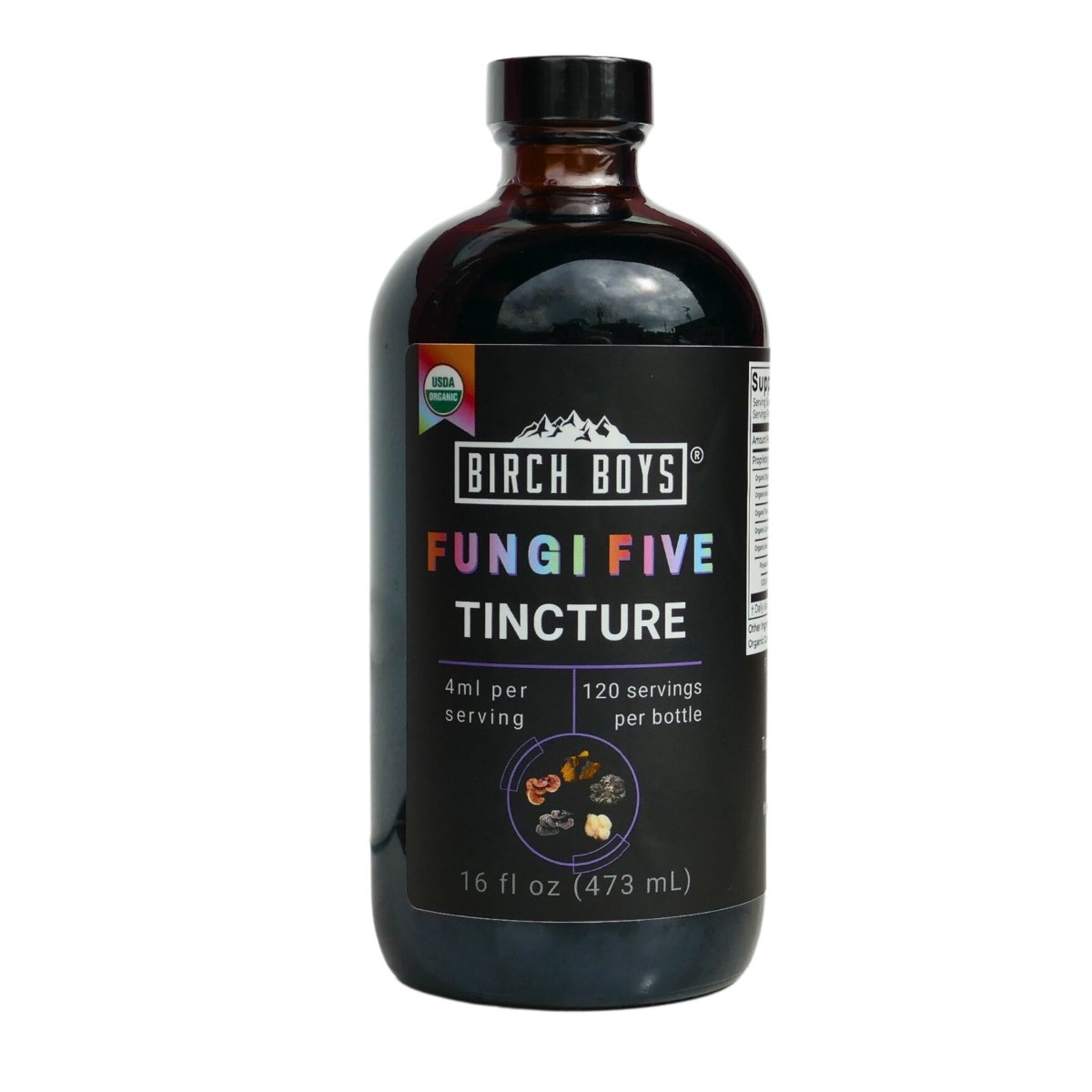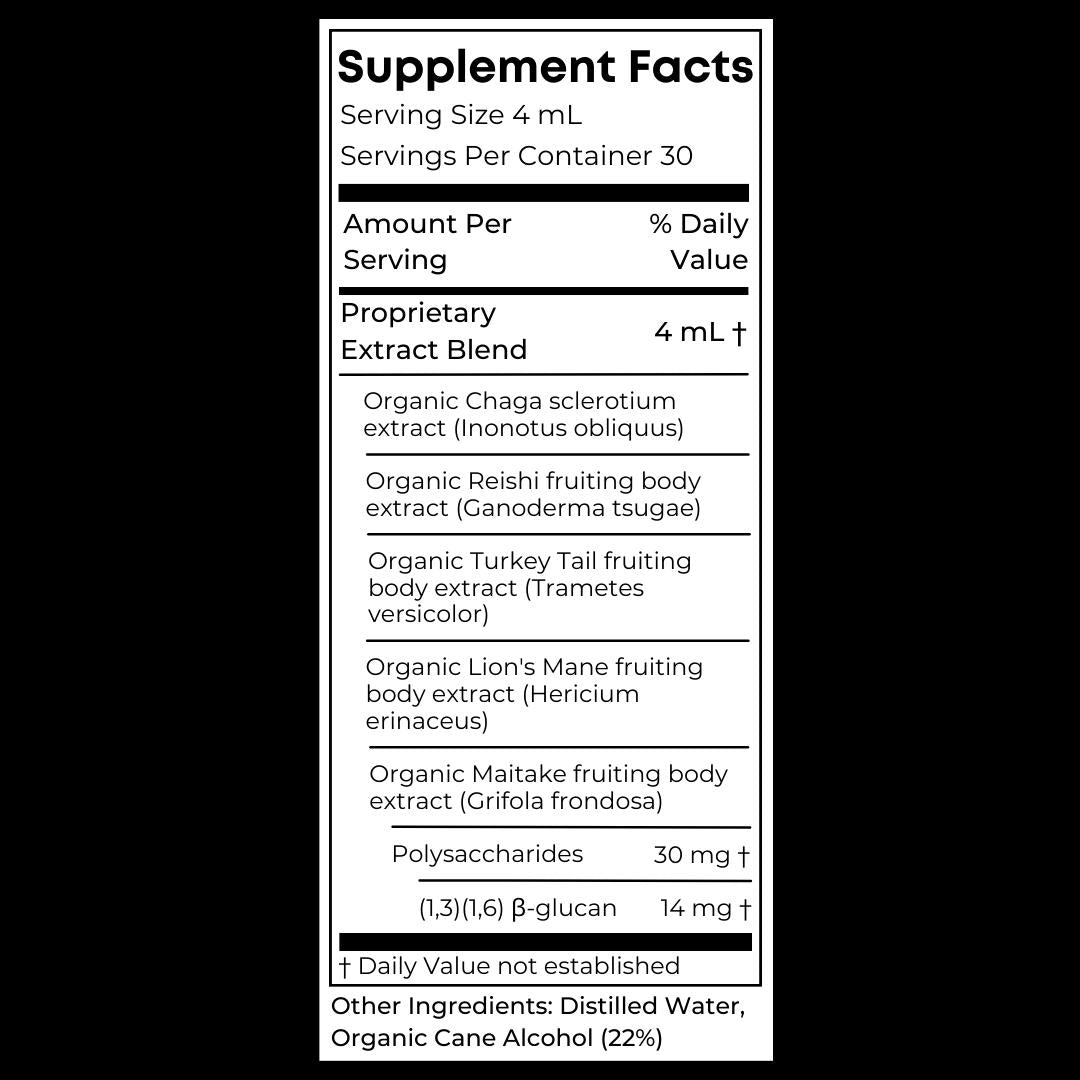 BIRCH BOYS FUNGI FIVE TINCTURE
BIRCH BOYS FUNGI FIVE TINCTURE
Made with ingredients you can trust
Made with ingredients you can trust
Fungi Fruiting Bodies & Sclerotium
Birch Boys chaga

sclerotium, reishi fruiting bodies and turkey tail fruiting bodes are sustainably wild-harvested from over 200,000 acres of leased Adirondack forest land.
We source our lion's mane and maitake from organic growers in the US.
All of our 'shrooms are certified USDA organic.
We emply a unique, 8 point sustainability protocol when harvesting chaga to ensure that our impact on the forest is positive.
We source our Organic Cane Alcohol from a

top-quality US distillery.

The addition of an alcohol extraction to our formula makes the more complex healing compounds found in fungi bioavailable. These compounds include triterpenes, sterols, lignin and more.
Pure, distilled water is imperitive to the making of our Fungi Five Tincture. Our concentrated hot water extraction makes the water-soluble compounds found in fungi bioavailable. These include antioxidants, polysaccharides (including beta glucan), polyphenols and more.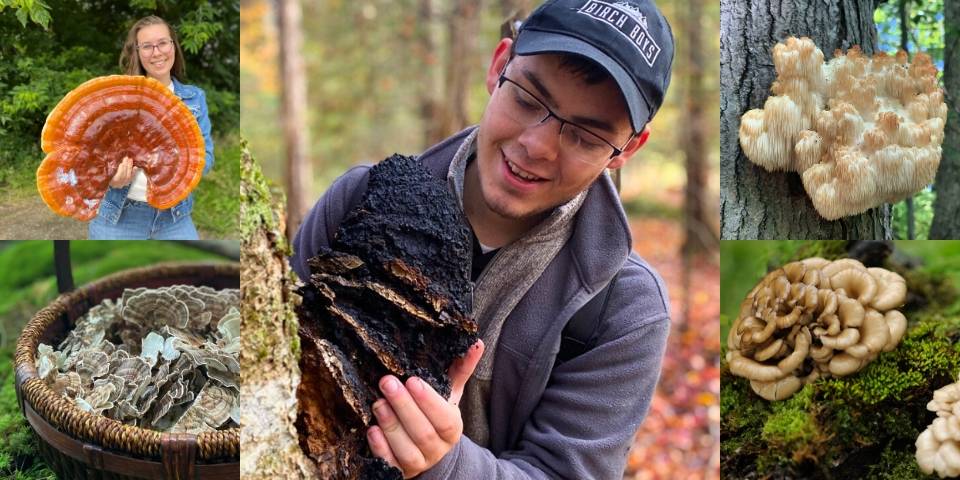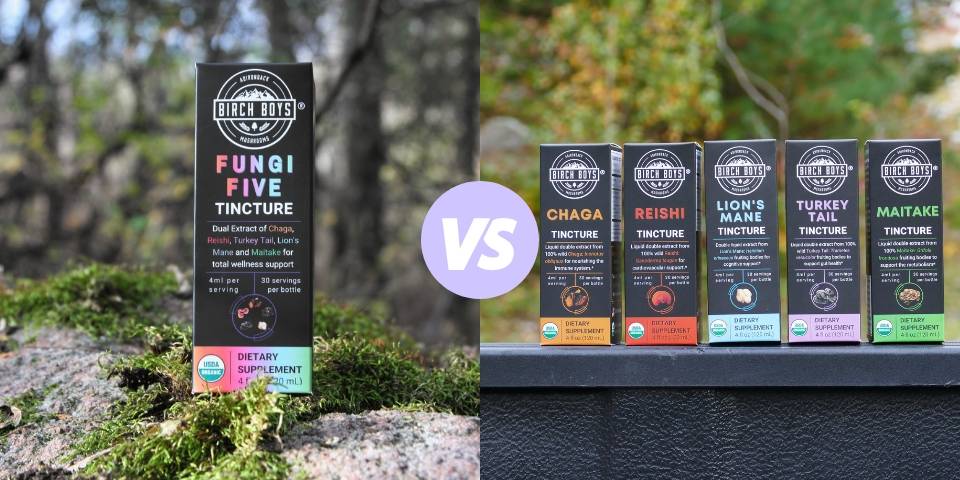 FUNGI FIVE VS MUSHROOM TINCTURE BUNDLE
Fungi Five
1/5th of each tincture in a single bottle
Just under 1mL of each tincture per serving
Great for those looking to casually incorporate fungi into their diet and support immunity.
Great for those who currently use the bundle, but take a 1mL serving size of each tincture, rather than the full 4mL.
Mushroom Tincture Bundle
Full bottle of each tincture

Full 4mL serving size of each tincture

Great for those who want to take the full 4mL of each tincture and/or are targeting a specific concern.
Additional Tips and Tricks:
If you prefer to only use a single bottle but want the full serving size of each tincture, you can take 20mL of the Fungi Five daily, which equates to a full 4mL serving of each tincture.
Still want the bundle deal? Use code BUNDLE5 and add 5 of the Fungi Five Tincture to your cart.
Frequently Asked Questions
Why should I choose a 5 mushroom blend?
Fungi Five is a practical way to experience a broad range of health benefits from 5 of our favorite healing mushrooms in one daily serving. This product is suggested for those who are exploring functional mushroom supplements, but don't necessarily have a targeted benefit or specific improvement desired. If you are looking to promote a healthy immune system and support your body with healing mushrooms in a well rounded way that is easy and convenient for you, try fungi five.
Frequently Bought Together
These Fungi-Favorites Support Immunity, Wellness, and Skin!
Fungi Five & Tea Bundle: Fungi Five and our Fungal Tea Bundle are a great combo. The Fungi Five is a great, easy squeeze of wellness and our Tea Bundle is a great way to begin and end your day with a delicious brew!
Fungi Five & Chaga Skin Cream: Take care of your skin inside and out! The Fungi Five will help to support your skin with Reishi, Chaga and more! The Chaga Skin Cream offers the topical benefits of Chaga - topical antioxidant, provides beta glucan, moisturizing and helps to decrease hyperpigmentation!