Nourish Your Immune System - Support Your Natural Defenses - Enhance Your Motivation
Nourish Your Immune System
---
BIRCH BOYS CHAGA TINCTURE
BIRCH BOYS CHAGA TINCTURE
Made with ingredients you can trust
Made with ingredients you can trust
Wild, Organic Chaga Sclerotium
Birch Boys chaga sclerotium is sustainably wild-harvested from over 200,000 acres of leased Adirondack forest land.
Our chaga is certified USDA organic.
Third-party testing has confirmed that Birch Boys' chaga is compliant with California's Prop 69.
We emply a unique, 8 point sustainability protocol when harvesting chaga to ensure that our impact on the forest is positive.
100% US origin (and 100% Adirondack, in fact!)
Pure, distilled water is imperitive to the making of our Chaga Tincture. Our concentrated hot water extraction makes the water-soluble compounds found in chaga bioavailable. These include antioxidants, polysaccharides (including beta glucan), polyphenols and more.
---
---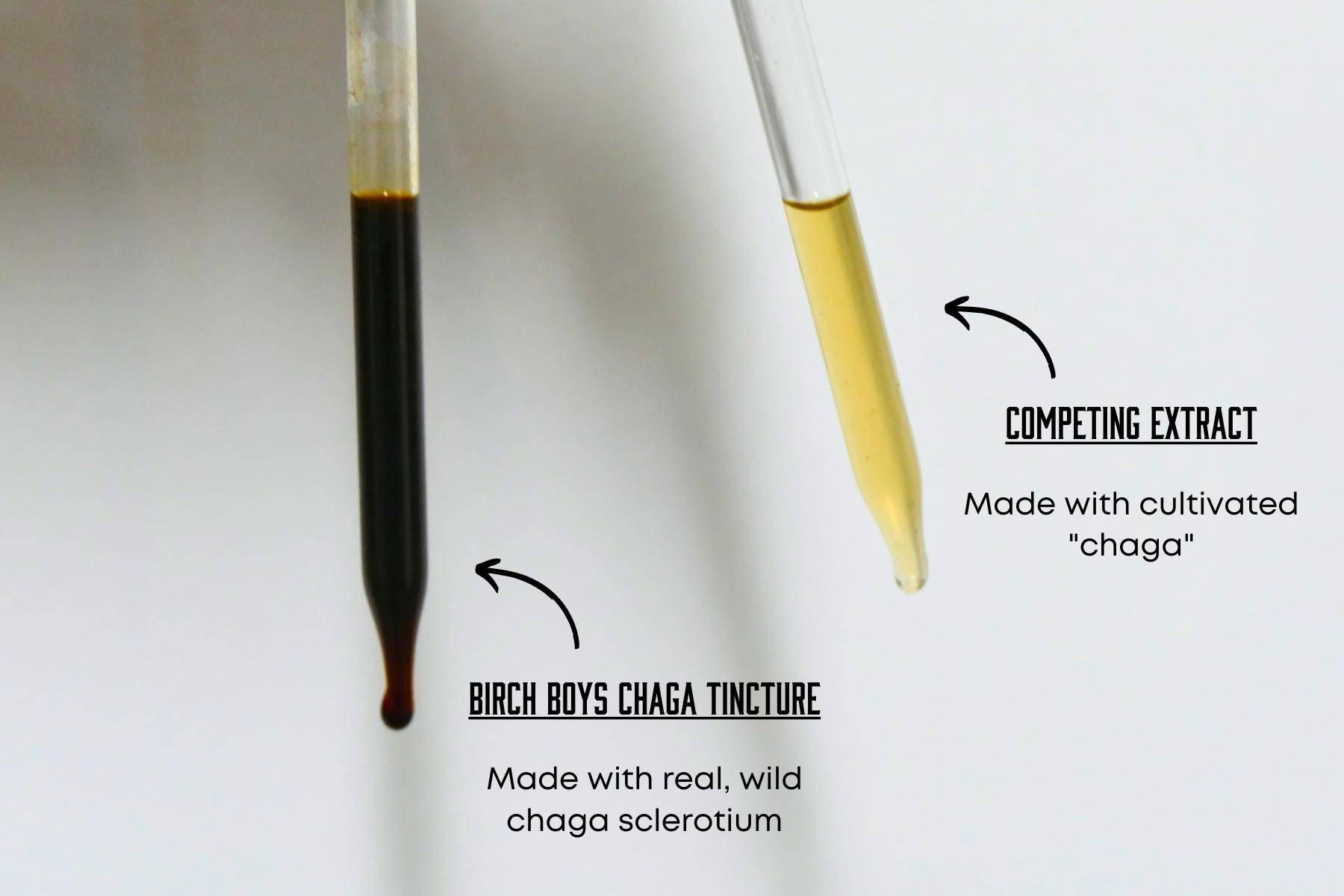 Visibly higher quality than our competitors
Birch Boys Chaga Tincture
Made with real chaga conk (AKA sclerotia) which takes years to grow, absorbing and concentrating healing birch compounds throughout its life.
Black - Visibly full of fungal melanin
Tastes like chaga - Earthy & sweet
The vast majority of studies on chaga have been performed using real chaga sclerotia, not cultivated mycelium.
All the goodness that Mother Nature intended.
Fungal beta glucan content listed on supplement facts panel. Tested by an accredited third-party lab.
Lower price per fluid ounce
Made with cultivated "chaga" (AKA mycelium) which cannot be separated from its grain substrate, is not grown on birch (so NO birch compounds), and takes only days to grow.
Yellow - No fungal melanin visibly evident
Weak flavor
Does not contain and is not made with any Chaga sclerotium.
Fungal beta glucan content is obscured, due to grain-derived beta glucan from the grain substrate.
No micronutrient data listed on supplement facts panel.
Higher price per fluid ounce
---
Frequently Bought Together
This hard-hitting trio is great for supporting your wellness, gut and mind!
Lion's Mane & Chaga: This combo is great as a coffee alternative! Lion's Mane provides mental energy and clarity, while Chaga provides physical and motivational energy. If you're looking to reduce, eliminate or augment your caffeine intake, this combo is your new superstar!
Lion's Mane & Turkey Tail: We all know how much the gut can impact the brain! You can take care of them both with Lion's Mane and Turkey Tail. Use this duo to promote a healthy brain/gut balance.
---