It's clear that ChagaNOW is a great way to get your Chaga fix - FAST! But did you know that you can use this instant chaga tea for so much more than just tea? In this blog we'll discuss 8 interesting ways to use ChagaNOW.
ChagaNOW is great for when you're traveling! Whether you're taking a long road trip or flying, it's the perfect way to keep yourself hydrated, motivated and fresh. It's no secret that traveling, via car or air, can be stressful and wreak havoc on your body. As an adaptogen, ChagaNOW can be a great solution. Whether you need to combat the stress of the airport or keep yourself sharp for a long drive, ChagaNOW can be easily traveled with because it does not contain liquid. You can even bring it in your carry-on bag.
ChagaNOW is easy to add to your morning smoothie or shake for an antioxidant boost. Just use the scoop to add one serving to your favorite smoothie or shake blend. If you need some inspiration, try this delicious Chaga Green Smoothie. This delicious green smoothie is sure to give you a healthful start to your day!
3. Add to Oats, Cereal or Acai Bowl
Take your oatmeal up a notch with ChagaNOW. This Instant Chaga Tea will blend seamlessly with your oats, breakfast cereal or acai bowl. You can mix it in with your oats/cereal or sprinkle it on top of your acai bowl. It will add sweet and earthy notes to your breakfast and provide you with the motivation to get through the day. Try adding ChagaNOW, apples, cinnamon and a dash of maple syrup to your oats for a spiced cider themed breakfast. In the image above you can see how ChagaNOW sparkles!
Chaga simple syrup is easier to make than ever with ChagaNOW. Just whip up a simple syrup by combining ½ cup of water, ½ cup of sugar and heat while stirring until the sugar is dissolved. Then stir in 1-4 servings of ChagaNOW. You can use this simple syrup to flavor cocktails, drizzle over ice cream and bring an immune-boost to your pancakes or waffles. Here's the recipe.
5. Add to Soups and Stews
ChagaNOW can be added to your favorite soup or stew. While it can be added to any soup, I can't get the idea of a Chaga-Butternut Squash soup out of my head! For a truly Adirondack meal, add your ChagaNOW to a hearty venison stew. Chaga is great for supporting digestion, so whether you're a morning soup person or an evening soup person, Chaga added to soup can help keep you regular.
6. Enhance your Coffee, Hot Chocolate or Tea
It's never been easier to boost your beverage! Chaga provides a delicious and well rounded flavor to any beverage. Hot Chaga Chocolate is delicious, for my fellow sweet tooths out there add a dollop of whipped cream and then sprinkle a tiny pinch of ChagaNOW on top, which brings us to the next use…
ChagaNOW is a gorgeous material to behold, it sparkles in the light like black glitter. Garnish your whipped cream, cupcakes, or spooky libations with ChagaNOW. There's no healthier way to add edible glitter to your goods.
8. Chaga Frosting or Icing
Spiced pumpkin cookies with Chaga frosting! Maple cupcakes with Chaga frosting. Spiced Chai Macarons with a Chaga filling. Is your mouth watering yet? Simply make your favorite frosting or icing recipe and add ChagaNOW when you add your liquid. Then use it to elevate your sweets.
Have these ideas piqued your interest? Which one is your favorite?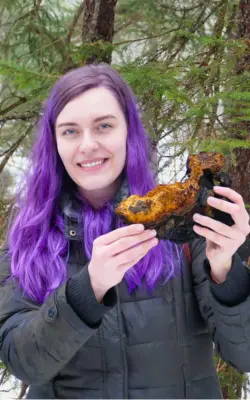 Born and raised amidst the breathtaking landscapes of the Adirondack Mountains, Kaitlin Lawless developed a profound appreciation for the natural world from an early age. She is passionate about ecological preservation and permaculture, employing such practices on her homestead. Since childhood, she has studied and been taught about herbalism by the wise women in her life, field guides, and accredited scientific literature. Her expertise in the field of mycology stems from her invaluable training under the tutelage of Garrett Kopp, a licensed NYS mushroom identification expert. Kaitlin is an integral part of the Birch Boys team, as the Assistant to the President, she manages Birch Boys' customer service, B2B, copy, social media and more. This role has afforded her a deep and expansive knowledge of the effects and applications of healing mushrooms. With her broad expertise, Kaitlin has become a trusted source of information for those seeking to harness the power of nature's medicinal offerings.