Nourish Your Immune System - Support Your Natural Defenses - Enhance Your Motivation
Nourish Your Immune System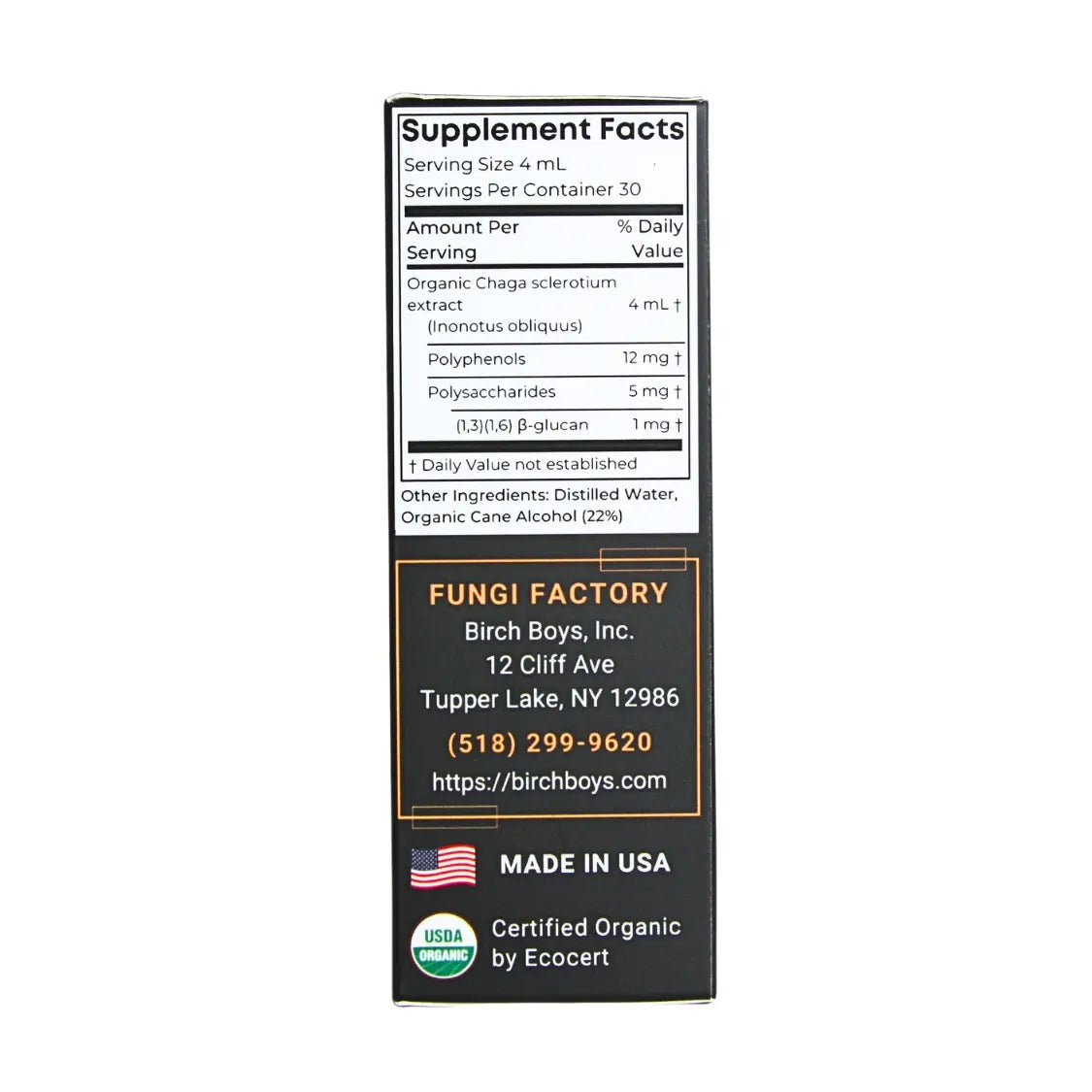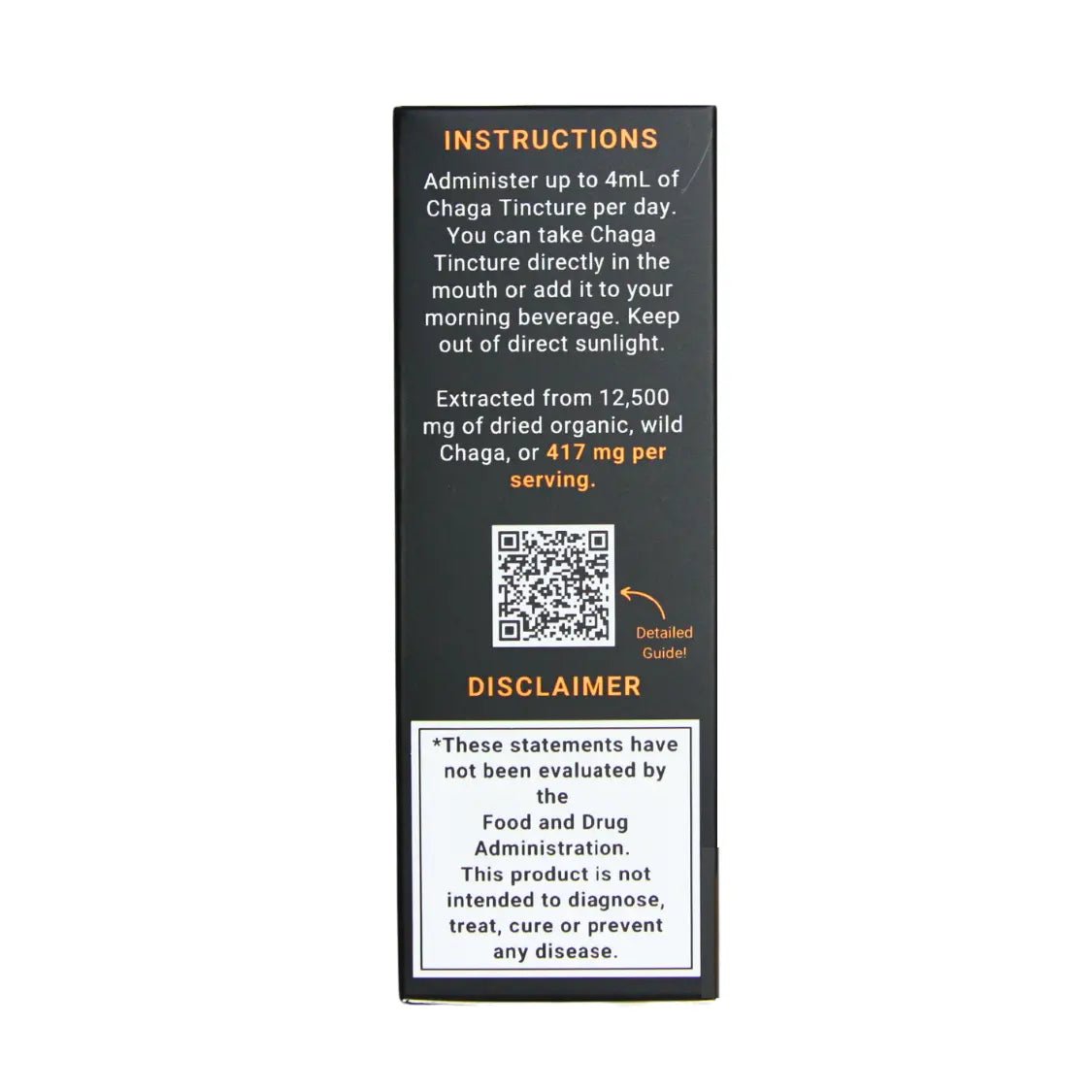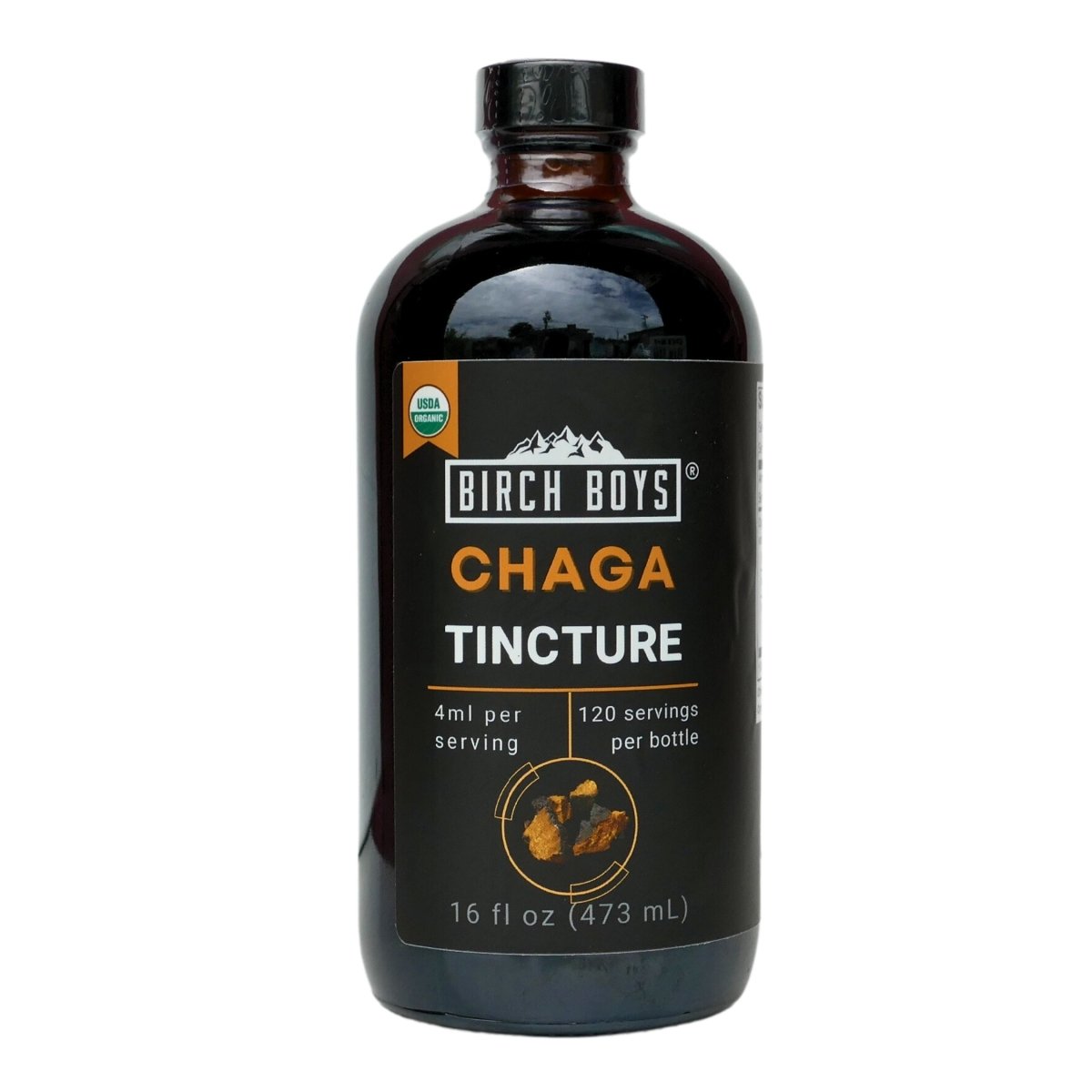 BIRCH BOYS CHAGA TINCTURE
BIRCH BOYS CHAGA TINCTURE
Made with ingredients you can trust
Made with ingredients you can trust
Wild, Organic Chaga Sclerotium
Birch Boys chaga sclerotium is sustainably wild-harvested from over 200,000 acres of leased Adirondack forest land.
Our chaga is certified USDA organic.
Third-party testing has confirmed that Birch Boys' chaga is compliant with California's Prop 69.
We emply a unique, 8 point sustainability protocol when harvesting chaga to ensure that our impact on the forest is positive.
100% US origin (and 100% Adirondack, in fact!)
Pure, distilled water is imperitive to the making of our Chaga Tincture. Our concentrated hot water extraction makes the water-soluble compounds found in chaga bioavailable. These include antioxidants, polysaccharides (including beta glucan), polyphenols and more.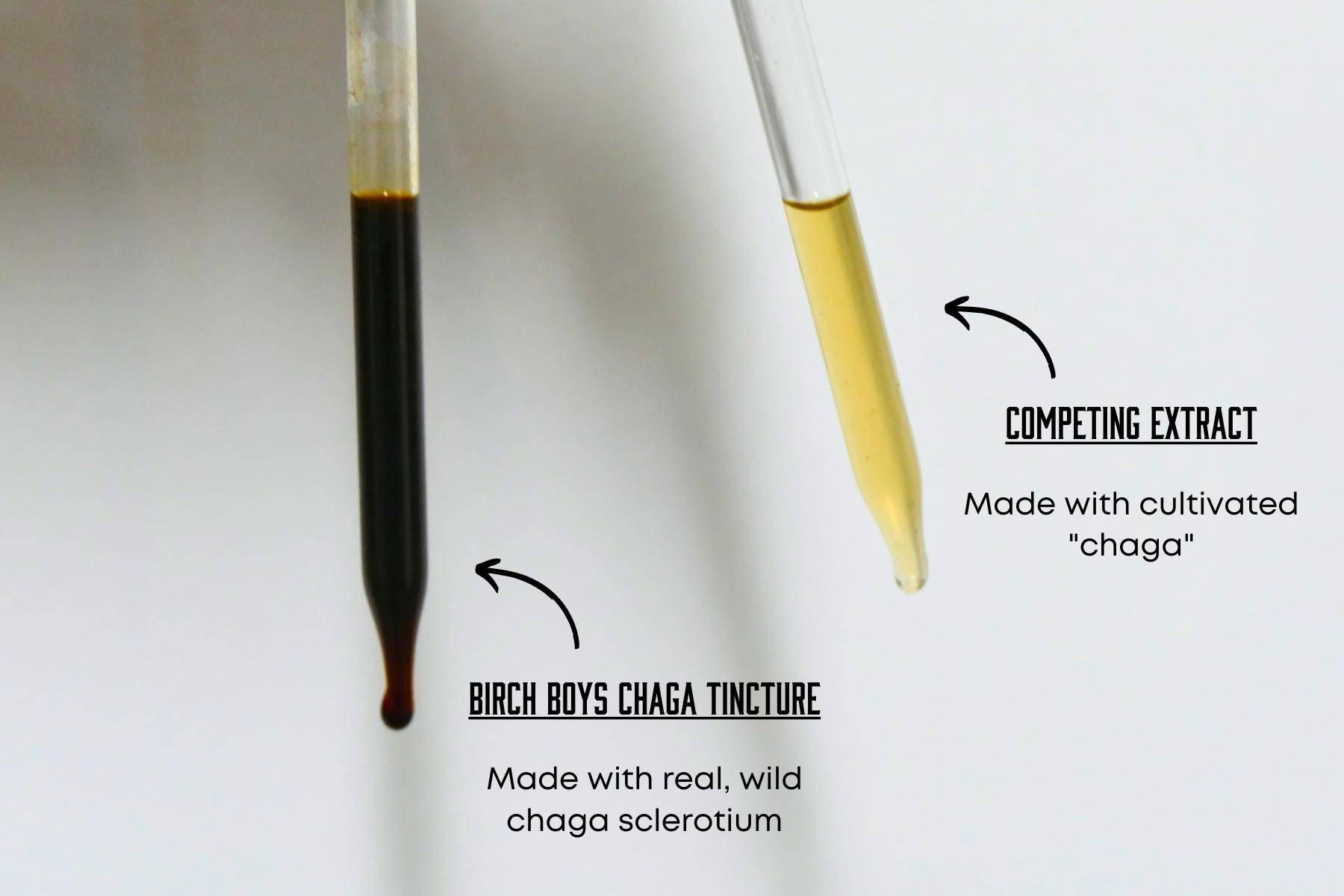 Visibly higher quality than our competitors
Birch Boys Chaga Tincture
Made with real chaga conk (AKA sclerotia) which takes years to grow, absorbing and concentrating healing birch compounds throughout its life.
Black - Visibly full of fungal melanin
Tastes like chaga - Earthy & sweet
The vast majority of studies on chaga have been performed using real chaga sclerotia, not cultivated mycelium.
All the goodness that Mother Nature intended.
Fungal beta glucan content listed on supplement facts panel. Tested by an accredited third-party lab.
Lower price per fluid ounce
Made with cultivated "chaga" (AKA mycelium) which cannot be separated from its grain substrate, is not grown on birch (so NO birch compounds), and takes only days to grow.
Yellow - No fungal melanin visibly evident
Weak flavor
Does not contain and is not made with any Chaga sclerotium.
Fungal beta glucan content is obscured, due to grain-derived beta glucan from the grain substrate.
No micronutrient data listed on supplement facts panel.
Higher price per fluid ounce
Frequently Asked Questions
Can I freeze chaga tincture?
No. Our Chaga tinctures are composed of 22% alcohol and therefore they will not freeze easily, and are already shelf-stable if stored out of direct sunlight. A pantry, medicine cabinet or dark area of the kitchen or bathroom is a great place to store your Chaga Tincture.
Is chaga safe during pregnancy?
There have not been any studies to determine the safety or effects of using chaga during pregnancy. If consumed in healthy moderation, there is no evidence to suggest that this would be dangerous, but we encourage you to consult your doctor before using chaga while pregnant or breastfeeding. Learn more about chaga warnings.
Does chaga give you energy?
Can chaga cause diarrhea?
Can chaga help with hair growth?
Can I consume chaga if I am allergic to mushrooms?
If you are allergic to mushrooms, consult with your doctor before trying chaga.
How does chaga make you feel?
Chaga makes you feel energy without the buzz of coffee. Many people also find that chaga provides motivation. Chaga is not psychoactive, noticeable effects are mild. Learn more about chaga's effects.
Should I take chaga when I'm sick?
You can take chaga when you're sick, but ideally you should start supporting your immune system with chaga before you get sick.
Does chaga interfere with any medications?
Speak with your doctor before purchasing chaga if you are take antidiabetes medications, immunosuppressants and/or anti platelet/anti coagulant medication.
What's the difference between chaga and reishi?
Chaga and Reishi are different fungi, and while many of their benefits overlap, they have different primary uses. Chaga is mainly used for immune support and energy, while reishi is mainly used for calm, sleep support and cardiovascular support. Learn more about Reishi's benefits here.
What's the difference between chaga and turkey tail?
Chaga and Turkey Tail are both primarily used for immune support. One main difference is that chaga's immune supporting properties are due to its antioxidants and triterpenes, whereas turkey tail's immune supporting powers are mainly attributed to polysaccharides. Click here to learn more about turkey tail.
What's the difference between chaga and lion's mane?
Should mushroom tinctures be refrigerated?
No, mushroom tinctures do not need to be refrigerated, but they should be stored away from direct sunlight
How long does it take for chaga tincture to kick in?
Can you mix mushroom tinctures?
Should I take my tincture every day?
For maximum efficacy, we recommend taking tinctures daily.
Can mushrooms help with weight loss?
Frequently Bought Together
This hard-hitting trio is great for supporting your wellness, gut and mind!
Lion's Mane & Chaga: This combo is great as a coffee alternative! Lion's Mane provides mental energy and clarity, while Chaga provides physical and motivational energy. If you're looking to reduce, eliminate or augment your caffeine intake, this combo is your new superstar!
Lion's Mane & Turkey Tail: We all know how much the gut can impact the brain! You can take care of them both with Lion's Mane and Turkey Tail. Use this duo to promote a healthy brain/gut balance.
liking the liquid chaga alot and taking daily??????
I love Birch Boys products and service. No complaints and lots of praise.
great service/great product
Thank you Garret and Kaitlin
Enjoy product. Easy to use in my morning coffee
I feel this is helping me with my sinuses and I can breathe freely through my nose. I'd recommend it highly.
Wild-Harvested and Sustainably Sourced
Our Chaga, Reishi and Turkey Tail are all sustainably wild-harvested in the Adirondacks of New York State. We source our Lion's Mane and Maitake from organic growers in the USA.
Made in USA
Every step of the way, from harvest to drying, slicing & chopping to grinding, to packaging and order fulfillment, our small (but mighty) team does it all.