Nourish Your Immune System - Support Your Natural Defenses - Enhance Your Motivation
Nourish Your Immune System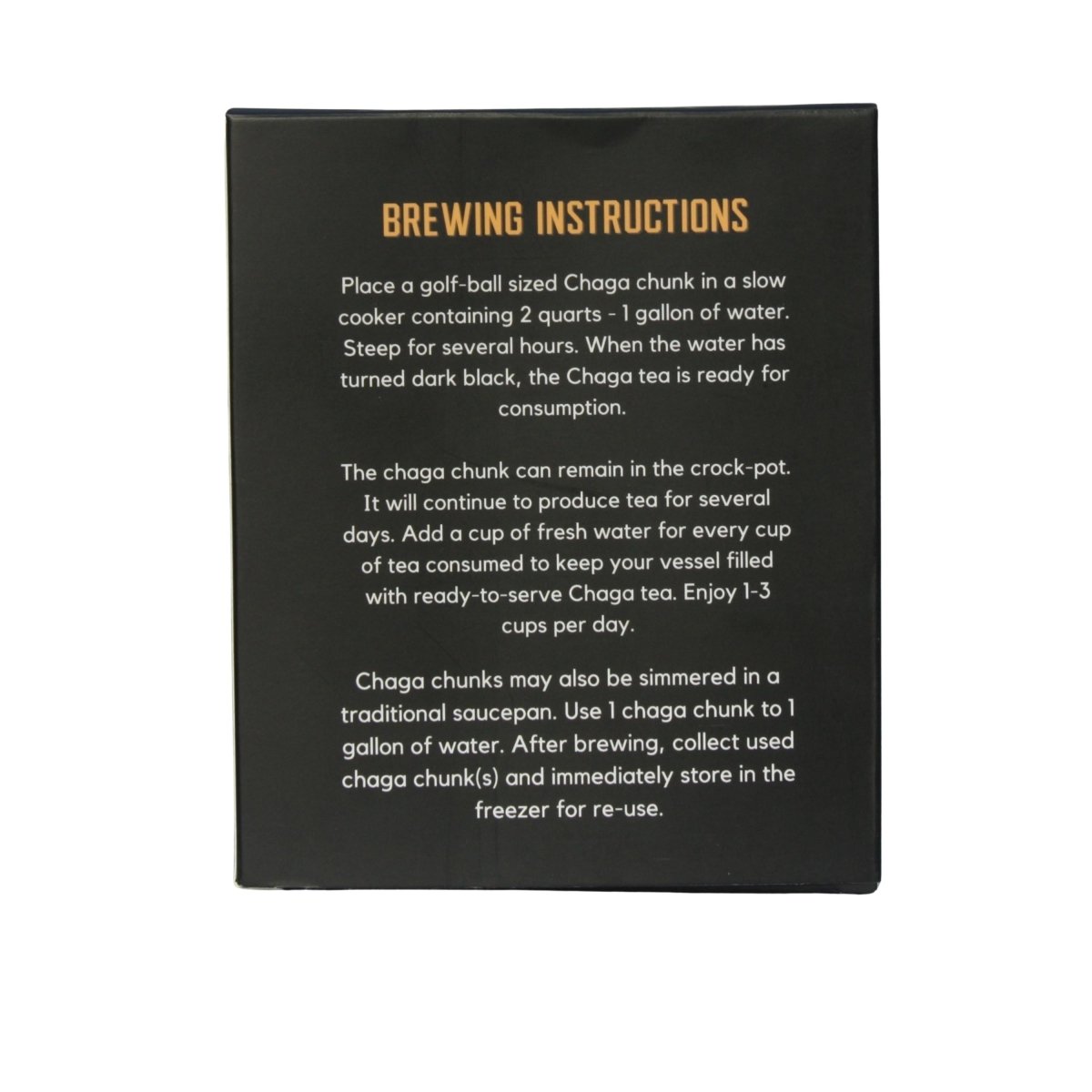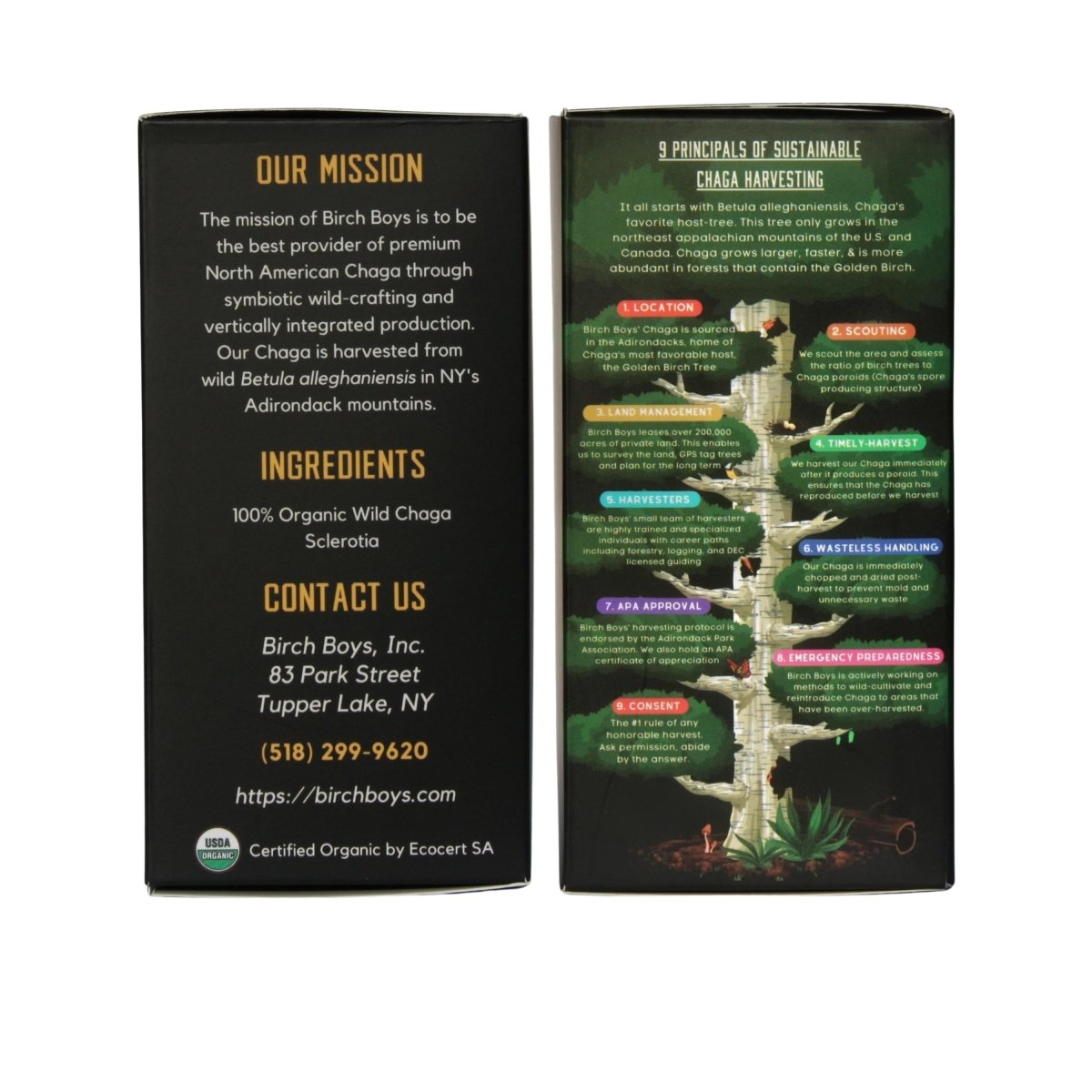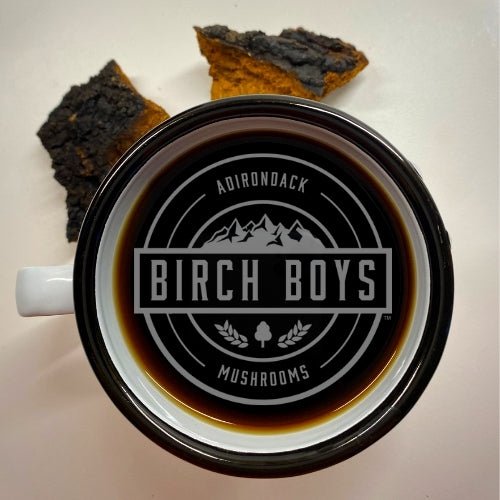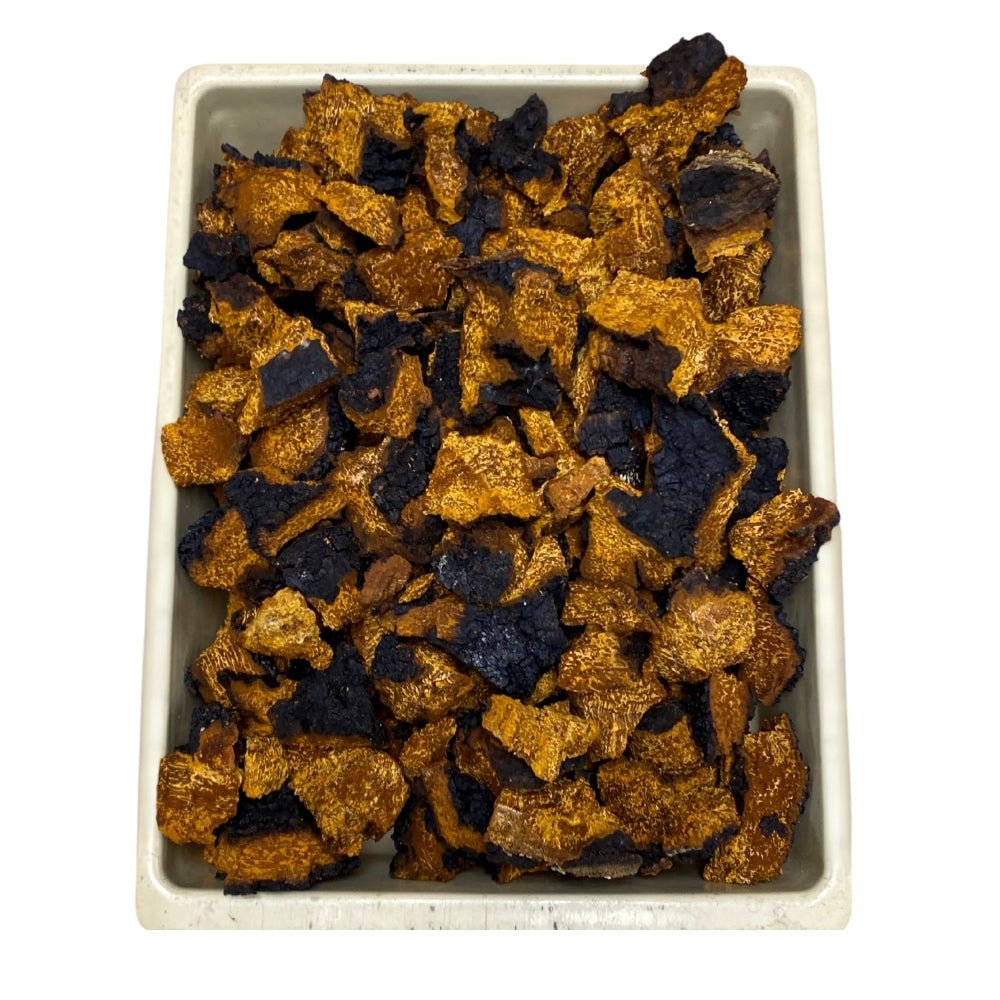 A single ingredient you can trust
Made with ingredients you can trust
Birch Boys chaga sclerotium is sustainably wild-harvested from over 200,000 acres of leased Adirondack forest land.
Third-party testing has confirmed that Birch Boys' chaga is compliant with California's Prop 69.
We emply a unique,

8 point sustainability protocol

when harvesting chaga to ensure that our impact on the forest is positive.
100% US origin (and 100% Adirondack, in fact!)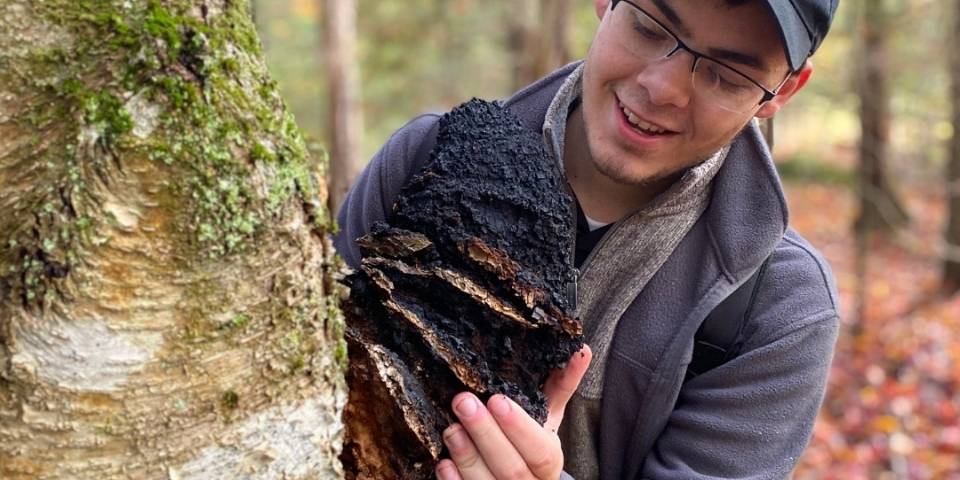 Frequently Asked Questions
How to brew chaga tea from chaga chunks
How to make chaga tea in a slowcooker?
What's the best way to grind the chunks into powder?
Birch Boys Chaga Chunks are intended to be used as is. We would not suggest trying to grind these in a home setting, chaga is very hard and we use professional equipment to grind it. If you need ground chaga, click here to purchase ground chaga.
Does chaga tea have caffeine?
Chaga tea does not contain caffeine. However, chaga is a great, natural energy provider without the buzz of caffeinated products. Chaga supports your energy levels with its natural polysaccharides and polyphenols, no caffeine here. Learn more about chaga as a coffee alternative.
Can you freeze chaga tea?
Yes, you can freeze chaga tea.
Does chaga tea need to be refrigerate?
Does chaga tea give you energy?
Can chaga help with hair growth?
Can I consume chaga if I am allergic to mushrooms?
If you are allergic to mushrooms, consult with your doctor before trying chaga.
How does chaga make you feel?
Chaga makes you feel energy without the buzz of coffee. Many people also find that chaga provides motivation. Chaga is not psychoactive, noticeable effects are mild. Learn more about chaga's effects.
Should I take chaga when I'm sick?
You can take chaga when you're sick, but ideally you should start supporting your immune system with chaga before you get sick.
Does chaga interfere with any medications?
Speak with your doctor before purchasing chaga if you are take antidiabetes medications, immunosuppressants and/or anti platelet/anti coagulant medication.
Frequently Bought Together
Perhaps the best trio of products on our site!
Chaga Chunks: The best value on wild chaga! Chaga Chunks are great because you can keep a brew simmering in the crockpot to serve anytime you want.
ChagaNOW: ChagaNOW is our completely unique chaga extract powder! This is a great product to have with you when you're traveling, or too busy to brew chaga. Just a simple scoop in any beverage adds an instant chaga boost!
Mushroom Tincture Bundle: This is the best value on our 5 healing mushroom tinctures. Tinctures are the best way to get ALL of the benefits that mushrooms have to offer, both water-soluble and alcohol-soluble.
Love all that I have ordered (so far!more orders to come!) Love the hane lotion scented. Just ordered unscented for my husband. Chaga tea is yummy. Even the lions mane tincture has a mild taste. Love this stuff!
Love the chaga chucks - get more for my buck
I ordered Chaga chunks and rehabilitation sl!ces. Only thing missing was the hike and thrill of finding it myself! Perfect!
I PUT THEM IN THE CROCK POT AND USE THAT TO MAKE MY COFFEE CANT DRINK MY COFFEE ANY OTHER WAY NOW!!
Thank you so much! and I appreciate the hand written thank you. In my mind, it has distinguished you from all the other sources of chaga. You are my only source and will advocate to everyone I know to do the same. I've never used this stuff and am new to the survivalist game; happy to have made friends right out of the gate.
Wild-Harvested and Sustainably Sourced
Our Chaga, Reishi and Turkey Tail are all sustainably wild-harvested in the Adirondacks of New York State. We source our Lion's Mane and Maitake from organic growers in the USA.
Made in USA
Every step of the way, from harvest to drying, slicing & chopping to grinding, to packaging and order fulfillment, our small (but mighty) team does it all.